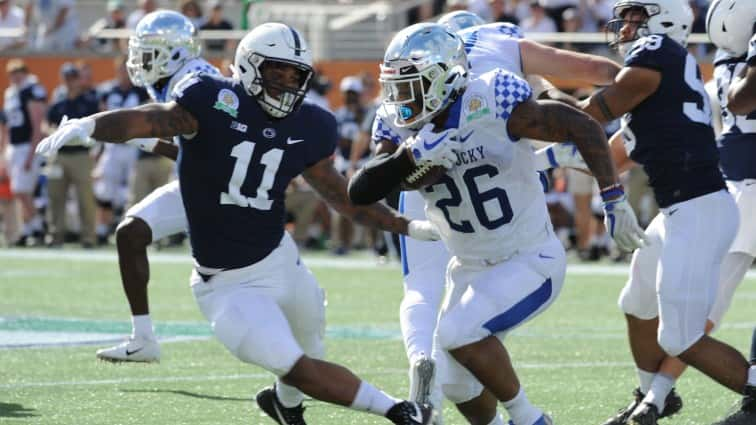 (Vicki Graff Photo)
Kentucky running back Benny Snell didn't help himself at the NFL Combine last week when he ran the 40-yard dash in 4.65 seconds, one of the slower times for running backs, and was also near the bottom in bench press reps.
However, former UK running back Anthony White doesn't think Snell did "anything really bad" that will hurt this that much in the draft.
"I think he was about where we expected he would be speed-wise. Maybe not quite as strong with his upper body, but he still has film (of his games at UK) for scouts to see," said White. "I would think third or fourth round (in the draft) would be the high end for him. The big thing is did he convince them (NFL scouts) that his film is good enough for them to take him?
"They will be looking at some very technical things. How many times did he miss a hole? How many times did he miss a block? How durable is he? Myself, I wasn't sure how agile he really was but he tested well on that, so I think he's going to be fine."
White even sees a scenario where a less than brilliant combine performance might help Snell.
"He succeeded at UK in part because he played with a chip on his shoulder," White said. "He wanted to prove everybody wrong about where he was rated (in recruiting) and show schools that didn't recruit him what they missed. Now he can take that same motivation to the NFL."
Snell's mother, April, says being the "underdog" is a role her son has always been "comfortable" with and knows well.
"People who do the (NFL) mock draft boards don't respect Kentucky as a whole. It's not just Benny," April Snell said. "Look at Josh (Allen). They rank him lower than he should be, too. Benny's record stands for itself. Everybody will be surprised by what he does in the NFL."
She admits the thought of having a son in the NFL is a "little stressful" because she doesn't know what to expect.
"I am a college mom. Every day I knew what was coming for the most part. Now my son starts another journey," she said. "He realizes what is ahead of him and it will be much more business oriented than college. Football may not be quite the same fun on the next level because it is a job.
"One thing that separates him is he loves football, he loves the sport and he will work hard. He's used to having to prove himself. That will be easy work for him.
"I will be around, his dad will be around. We are going to make sure he stays at the same grounded level. When he comes home, he hangs with the same high school friends. He always kept the same crowd of people in Kentucky. He knows what it is going to take to succeed."
No one believe that more than UK associate head coach Vince Marrow, the man who recruited Snell to play for Kentucky.
"What Benny did in this conference, that's amazing. He had three straight 1,000-yard season and became our all-time leading rusher. I don't care how you spin it. That's impressive," Marrow said.
"I had one NFL GM (general manager) tell me we are looking at what this kid did. He said you can't question Benny Snell and what he did in the SEC. The film doesn't lie."