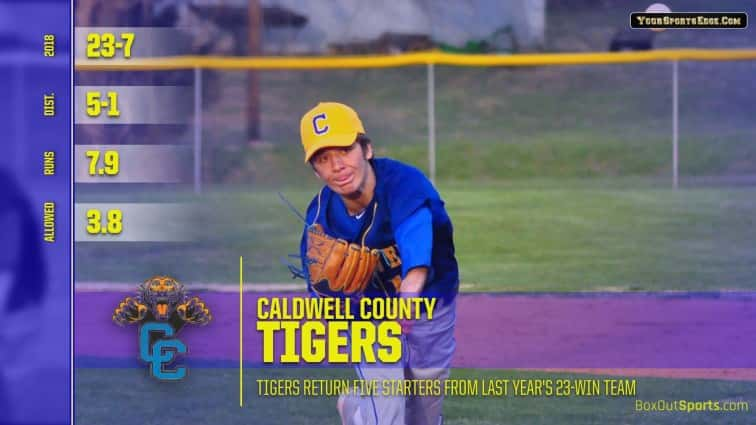 After wearing a bull's-eye the last two years, the Caldwell County Tiger baseball team may be fighting for a little respect in 2019.
Graduating five players who are now on college rosters will do that, but the Tigers feel like they still have enough talent remaining to be a challenger in the 2nd Region. Caldwell also is not about to surrender its string of seven-straight 7th District championships without a fight.
But even the Tigers will admit they aren't as deep as they were when they won back-to-back 2nd Region titles in 2016 and 2017, or last year when they were the regional favorites but fell to Union County in the first round of the 2nd Region tournament.
Among those gone is Shane Burns, the Tigers' all-time leader in pitching victories. Burns, who compiled a 31-8 record at Caldwell, is now a freshman starting pitcher at Murray State University. Meanwhile, Ty Ramey is 1-1 with two saves at Frontier College while Jase Felker, Bryce Thomas and Noah Brown are all seeing action at Rend Lake College. The other member of Caldwell's 2018 senior class, Dylan Gray, had offers to play baseball or wrestle but elected to pass on college athletics to attend Western Kentucky University.
Caldwell will count on what looks like another solid senior class this season.
Seniors Bryar Riley and Gabe East will anchor the pitching staff. Only Burns threw more innings than those two last season.
Riley, a right-hander, tossed 39 innings in 10 appearances, going 6-2 with a 2.69 earned run average, which was second on the team.
East, a lefty, was right behind Riley, throwing 35.2 innings in nine starts while going 5-0 with a 3.34 ERA.
The Tigers have several arms to run out there after that, but not much varsity pitching experience. Seniors Blake Stallins, John Davis and Oliver Parker could be called upon to toe the rubber this season along with juniors Cody Holub and Trace Lacy, and sophomore Tate VanHooser. At least a couple of those guys will have to develop into dependable options if the Tigers are to try to record their fifth straight 20-win season and mount a strong postseason challenge.
Senior Easton Thompson will start behind the plate after seeing spot duty there last season. He was the team's leading hitter last season, batting .455 with 30 plate appearances.
VanHooser takes over full-time at first base after playing that position last season when Burns pitched. VanHooser hit .290 with a home run and 19 runs batted in a year ago.
Second base is an open spot with junior Aaron Ziobro and eighth grader Levin East in the running for playing time there.
Holub takes over at shortstop this season.
At third base, Davis is the likely starter. Davis will likely slide over to short when Holub pitches.
Gabe East and Parker return in the outfield, when not pitching. Parker hit .357 last season with a home run and 16 RBIs while East had a .343 average with 15 extra-base hits, including a home run, and knocked in 25 runs.
Parker may also see some time on the infield, depending on who is pitching each day.
Junior Brian Owen also figures to see action in the outfield.
Freshman Logan Smiley could be a youngster to keep an eye on. Smiley could work into a starting role in the outfield and could add depth to the Caldwell pitching staff.
Caldwell averaged nearly 8 runs a game last season and believes it will be solid offensively again this year.
Caldwell and Madisonville-North Hopkins appear to be the top two teams in the 7th District this year. The Maroons will be looking for their first district title since 2011.
The Tigers, who still went 23-7 last season despite the earlier-than-anticipated exit in the regional tournament, will open the 2019 season at home on Monday, March 18, against Crittenden County at the VFW Ballpark in Princeton.