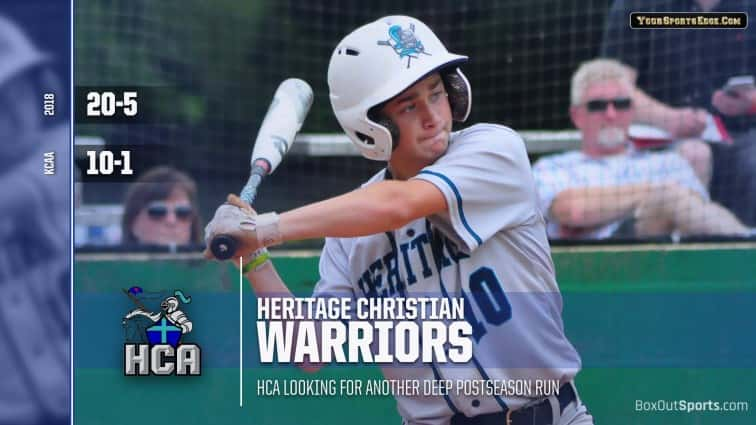 When a team normally loses their top two pitchers from a state final four team, a rebuilding process usually follows. But for Heritage Christian Academy, they are reloading in 2019 with the hopes of another deep run in the KCAA playoffs.
Strong pitching helped the Warriors to a 20-5 record last year and a KCAA final four finish. Despite the loss of All-State players Weslee Choate and Ben Jacobs, Warrior Coach Darrell Crawford feels like his team can duplicate last year's success.
"We have four kids back who hit over .400 last year. The best thing I like about our team, is that they like one another, and they enjoy being with each other," he said.
Senior twins Josh and Caleb Jones return to the mound along with freshman Trenton Hayes. Josh Jones led the KCAA in hitting last year and will make the move to shortstop this year. Freshman Weston Powell will also see time on the mound in addition to playing the corner positions on defense. Hayes will play second base when he's not on the mound.
Crawford says Grant Floyd will see time at several positions as well as on the mound for the Warriors. Elijah Britton returns behind the plate where Crawford says he has improved over last season. Eighth grader Jeremiah Kay returns in center field.
There are several positions still up for grabs, with Crawford saying Ryan Trapnell, Mikie Venable, and Davis Miller have a good shot at filling those.
"Freshmen David Jent and Walker Ashby have blown me away with their improvement and work that they are putting in," Crawford said. "I feel confident that there will be several of these kids step up and contribute greatly to the team."
Despite the lack of field time in the spring due to the inconsistent weather, Crawford likes where his team is.
"I think we have the capabilities to be strong in every phase of the game. Right now, I would say that pitching and defense is where we look the best. But that is about all we have been able to work on so far."
HCA beat Russellville High 12-2 in a scrimmage Monday. Caleb Jones, Trenton Hayes, Gavin Floyd, and Josh Jones all had multiple hits.
On Tuesday, the Warriors beat Fort Campbell 7-3 as Josh Jones struck out nine in five innings and drove in three at the plate.
Crawford feels North Hardin Christian, who eliminated the Warriors in the playoffs last season, and defending state champion Highlands Latin are the favorites in the KCAA again this year. But he feels like the Warriors will be in the mix at the end.
"I look for us to compete and be right up there with those guys. We believe we have the talent, and work ethic to win it all this season. But it will take a lot of work."