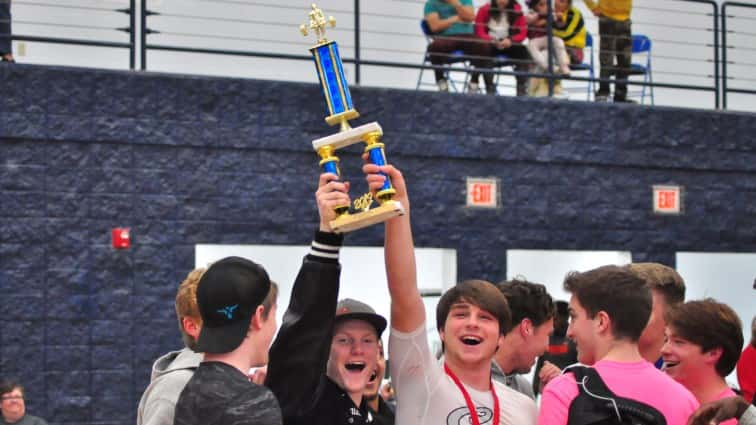 Coming into Saturday, Trigg County had won more state powerlifting state championships than any other school. After Saturday, they get to add a championship banner to that total.
Trigg County had two individual state champions and two runners-up in beating second place McLean County 42-38. McCracken County was third with 35 points, and Hopkins County Central was fourth with 27 points.
Tayshaun Barker won the 145-pound weight class with a bench press of 225 pounds and a clean of 215 pounds for a total of 440 pounds. He edged Christian County's Trejon Wilson by five pounds.
Austin Mitchell took first place in the 205-pound class with a total lift of 545 pounds. He bench-pressed 295 pounds and was able to make his clean lift of 250 pounds to win by five points.
Clayton Setliff took second place in the 165-pound class with a total lift of 470 pounds. He finished five pounds behind first place Ethan Maddox of Ohio County. Setliff totaled 235 in the bench and 235 in the clean.
Cade Bleidt was second in the 175-pound class. He had a total lift of 545 pounds – 270 in the bench and 275 in the clean. Bleidt had the unfortunate luck of being in the same weight class as Perry County Central's Ronnie Collins, who the outstanding wrestler in the lower classes with a total of 640 pounds.
Other Trigg County lifters that finished in the top 10 at the state meet were:
Ryan Graff – 3rd at 145 (430 total)
Jaquellus Martin – 4th at 135 (370 total)
Tiler Ware – 8th at 125 (285 total)
Trevor Vanlue – 8th at 165 (430 total)
Sam Utter – 9th at 155 (410 total)
Keeton Harris – 10th at 165 (390 total)
Graham Futrell – 10th at 220 (480 total)
The state championship is Trigg County 12th in the 40-year history of the state powerlifting meet and first since 2010. Trigg has also won four middle school state championships since the event was begun in 2010.
Hopkinsville has eight state titles, and Christian County has six. The Tigers won six straight titles from 2012-17, while the Colonels last hoisted the championship trophy in 2010.