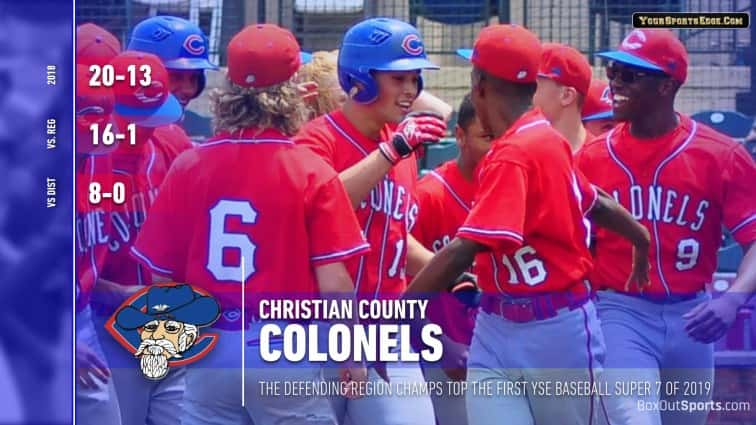 After capturing the 8th District and 2nd Region titles last season, the Christian County Colonels bring back the bulk of their team for what looks to be a very promising 2019.  The Colonels started slowly in 2018, dropping 7 of their first 9 games, but hit their stride down the stretch.  They topped Hopkinsville 6-2 in the district-title game, before knocking off Union County 6-1 for the program's first regional championship since 2008.
Coach Trey Wheeler enters his third season in charge with the bulk of last season's lineup intact.  Catcher Cameron Crider has graduated, and shortstop Daniel Lopez moved out of state, but 7 starters return.
Division 1 signees Wyatt Stevenson and Lane Diuguid highlight the returnees, with Stevenson set to continue his career at the University of Louisville and Diuguid headed to Western Kentucky University.  Both seniors are expected to take their turn on the mound for the Colonels, with Diuguid also patrolling the outfield and Stevenson capable of playing a number of positions.  Stevenson led the Colonels with a .372 average and 32 RBI, including 4 home runs, while Diuguid contributed 10 RBI and 24 runs scored.
Senior Eric Silvy is another pitching option and infielder, after returning from an injury that cut his season short last year.  Silvy got it done at the plate as well, batting .312 with 14 RBI and 28 runs scored.  Senior Austin Fields is another pitching option, while also playing up the middle in the infield or in the outfield.  He hit .291 with 13 RBI, while tying for the team lead with 32 hits.  Another senior, Jase Polley, wields a big bat as well, coming off a a junior campaign that saw hit hit .345 with 28 RBI and 21 runs scored.  Polley spent most of last year at first base, but can also play at third or in the outfield.
Wheeler expects some newcomers to the varsity team to contribute as well, with sophomore Josh Snorton, senior Dorian Lones, and freshmen Elijah Underhill and Houston George all having strong preseasons.
The Colonels get things started Monday night, going on the road to face Franklin-Simpson to open the regular season.  They'll begin 8th-District play on March 21 with a visit from Drew McGowan and the UHA Blazers.
Listen as Coach Wheeler previews the 2019 Colonels.
Baseball
,
Christian County Baseball
,
Christian County High School
,
homepage