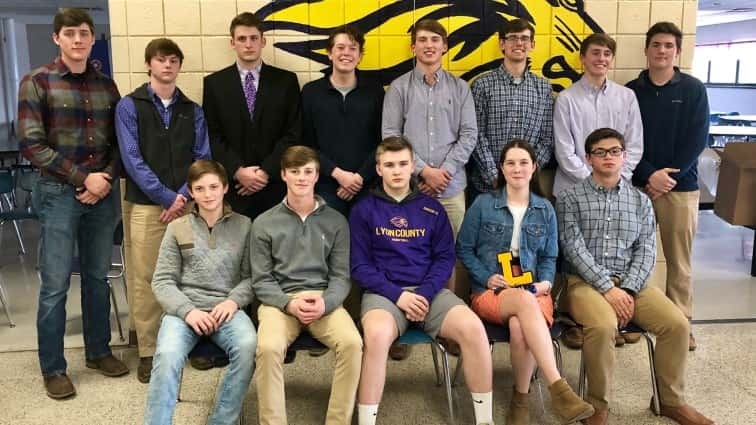 Lyon County honored their boys' and girls' basketball teams and cheerleaders Sunday at the annual banquet presented by the Lyon County Backboard Club.
Seniors Allison Murphy and Gabe Board were honored as Miss and Mr. Basketball respectively by WCCK Radio who picked up and continued the tradition of the award started by the Lions Club.
Board was honored with a basketball for 1,000 career points, 500 career rebounds, and 500 career assists. Murphy was also honored with a basketball for 1,362 career points and 1,151 career rebounds.
Murphy was also honored with the first-ever Tiffany Shemwell Clayton perseverance award, named for the wife of Lyon County broadcaster Aaron Clayton who passed away during the season.
Lyons' coach Jeff Embrey was presented the basketball from his 300th career coaching achieved during the season.
Here are the award winners:
BOYS
Rebounding Award – Jackson Shoulders and Gabe Board
Field Goal Percentage Award – Jackson Shoulders, Gabe DeFew, Gabe Board, and Nick Whalin
3-point Field Goal Percentage – Gabe Board, Kade Blackburn, and Travis Perry
Free Throw Percentage – Gabe Board and Travis Perry
Assists Award – Gabe Board and Travis Perry
Freshman MVP – Brady Shoulders and Gunnar Bingham
JV Player of the Year – Nick Whalin
Most Improved Player – Gabe DeFew and Kade Blackburn
Mental Attitude Awards – Trace Adams, Gabe Board, and Gabe DeFew
MVP – Gabe Board and Travis Perry
GIRLS
Leading Scorer – Allison Murphy
Leading Rebounder – Allison Murphy
Best Field Goal Percentage – Rose Smith
Best 3-point Percentage – Cathryn Brown
Best Free Throw Percentage – Cathryn Brown
Most Assists – Allison Murphy
Defensive Player Awards – Kenttavia Matthews and Allison Murphy
Eddie Dycus 100% Award – Calista Collins
Coaches Award – Broadcaster Aaron Clayton
Junior Varsity Award – Ashleigh Butts, Ashlyn Doom, Isabella Ortiz, Taylyn Sutton, LuLu Taylor, and Kayden Watts
MVP – Allison Murphy
CHEERLEADERS
Outstanding Leadership – Trinity Haines
Most Spirited Cheerleader – Madison Morgan and Kamryn Schoonover
Most Improved Cheerleader – Kelsea Baize and Brianna Conrad
Best Technique – Laney Dalbey
Most Dependable/Dedicated – Alex Lampkin and Anna Yanez
Awesome Attitude Award – Sarah Spurlock
Best All Around – Caroline Cook