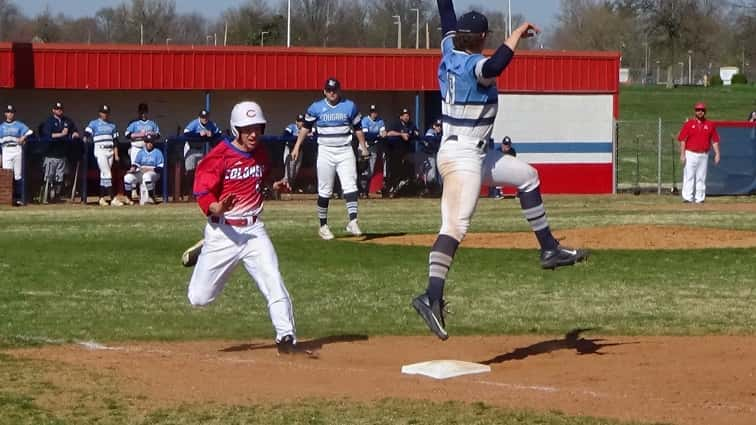 Christian County's Bryson Brown got his first start on the mound on Tuesday, pitching well through six innings, but the Colonels couldn't come up with the big hit in a 6-2 loss to red-hot Logan County.  The Colonels have a three-game win streak snapped to stand at 5-3 overall, while the Cougars win their eighth-straight to improve to 10-1.  Logan County's last five wins have all come on the road, outscoring the competition 48-24 over that span, including a 24-12 victory over Henderson County.
Trailing 1-0 in the bottom of the first, Colonel first-baseman Jase Polley double to left field to bring in Houston George to tie the game.  The Cougars pulled back in front in the third, using a couple of Colonel errors and a two-out RBI single by Third Bell for a 3-1 advantage.
Down 4-1 in the fourth, the Colonels pulled a run back on a sacrifice fly by Lane Diuguid, but that would be all Logan County starting pitcher Koby Wall would allow.  Christian County managed only one hit the rest of the way, a single in the bottom of the seventh by Bryson Brown.
Wall went the distance for the win, scattering 4 hits and allowing 2 runs, 1 earned, with 5 strikeouts and 5 walks.  Braxton Meguiar, Parker White and Bell had two hits each for the Cougars, with Meguiar, Bell, Dylan Penick, and Nate Woodall driving-in runs.
Brown took the loss, giving up 4 runs , 2 earned, on 8 hits, with a couple of strikeouts and walks.  Brown also was the only Colonel with 2 hits.
On Thursday, Christian County begins play at the Rebel Classic, where they'll face Tennessee's Lincoln County, Warren County, Goodpasture Christian, and Tullahoma.