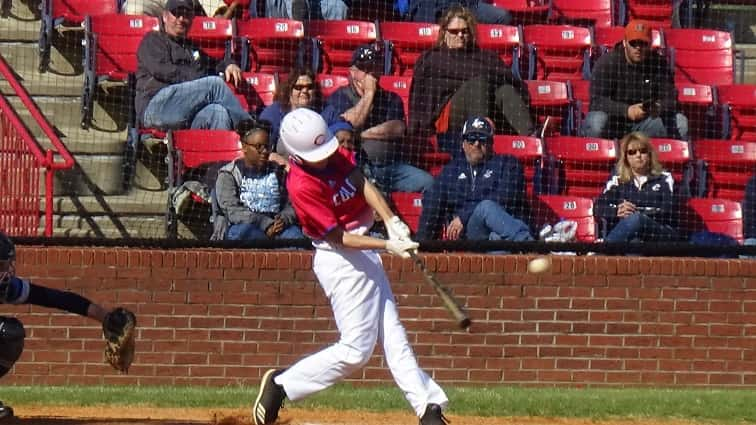 The Christian County Colonels were hit for a 14-run third inning in their opening game of the Rebel Classic on Thursday, falling 18-7 to Warren County, TN.  The loss is the Colonels' second-straight, leaving them at 5-4 overall.  Christian County was scheduled to play a second game Thursday against Lincoln County, TN, but it was rained out.
Trailing 2-0 in the first, the Colonels used three-straight singles to load the bases, before Houston George came home on a wild pitch and Lane Diuguid grounded out to score Wyatt Stevenson.  Austin Fields followed with an RBI single to give the Colonels a 3-2 advantage.
The Pioneers blew the game open in the top of the third, racking up 11 singles in the frame on the way to 14 runs.  Starting pitcher Layton Stallons was chased with one out in the frame and the Colonels trailing 12-3, with Chance Henderson coming on in relief.
The Colonels got 3 runs back in the bottom of the third, highlighted by an RBI triple from Diuguid, but were blanked in their final two at-bats for an 18-7 final.
Stallons took the loss, lasting 2.1 innings while giving up 15 runs, 14 earned, on 12 hits, with 4 walks and a strikeout.  Henderson got two outs, allowing a run on a hit, with a walk and a strikeout.  Chance Alexander worked the final two frames, yielding 2 earned runs on 4 hits with a strikeout.
Stevenson, Jase Polley, and Austin Fields each had two hits for the Colonels.  Diuguid had 3 RBI, with Polley and Fields each driving-in one.
John Garrett went the distance for the Pioneers, allowing 7 earned runs on 9 hits, with 3 walks and 2 strikeouts.
Brooks Helton led the way at the plate for Warren County, going 4-4 with 2 RBI.  Trace Adcock had 3 hits and drove-in 3.