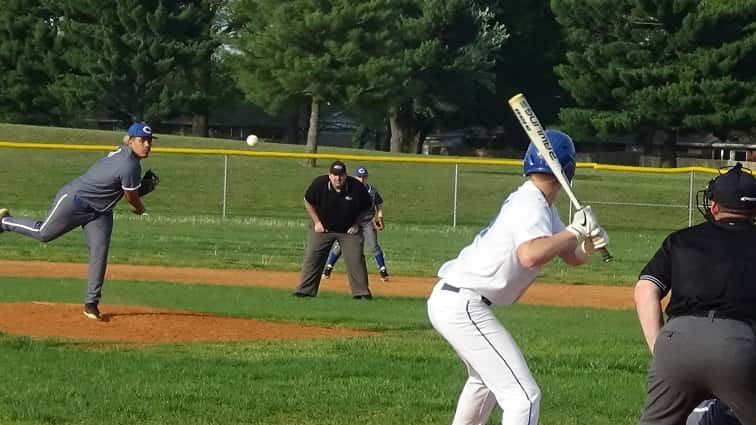 The Christian County Colonels blasted four home runs and Jase Polley scattered five hits over five innings in an 18-2 victory over hosts Fort Campbell on Tuesday night.  Three Colonels hit their first career homer, with a grand slam by Lane Diuguid highlighting the power surge, sending Christian County to 4-0 in 8th District play and 8-4 overall.  The Falcons slip to 1-8, 0-4 against district competition.
Eric Silvy got things started for the Colonels with a shot over the left field fence to lead off the game, the senior's first varsity home run.  After the Colonels added 4 more runs in the third, the Falcons got on the board in the bottom of the inning when Tyler MacKay grounded out to bring in Jahcore Brown, followed by an RBI single from Matt Middleton.
Wyatt Stevenson left the yard in the top of the fourth, clearing the fence in right-center, followed by an RBI double by Diuguid for a 7-2 advantage.  Austin Fields led off the fifth with a solo home run, the first of his career, and the Colonels exploded for 11 runs in the frame.
Diuguid launched the first homer of his career in style, crushing an offering by the Falcons' Elijah Crockett to right for a grand slam to stretch the margin to eleven.  The Colonels tacked on 5 more, and after a lead-off single by Fort Campbell's MacKay, Polley retired the next three batters in the bottom of the fifth to close out the win.
Polley yielded 5 hits and 2 unearned runs, while walking one and striking out five.  Diuguid drove-in 5 runs, with Fields and Silvy each bringing-in two.  Fields had 3 hits, followed by Stevenson, Polley, Diuguid and Bryson Brown with 2 hits each.
Ryan Sawyer took the loss for the Falcons, lasting four innings while giving up 8 earned runs on 9 hits, with 3 walks and 5 strikeouts.
The Falcons will continue with 8th-District play on Thursday, when they travel to Hopkinsville to face UHA.  The Blazers won the first match-up, taking a 10-3 decision on the season's opening night.
Christian County is off until Friday, when they'll look to build on a three-game winning streak against visiting Madisonville-North Hopkins.