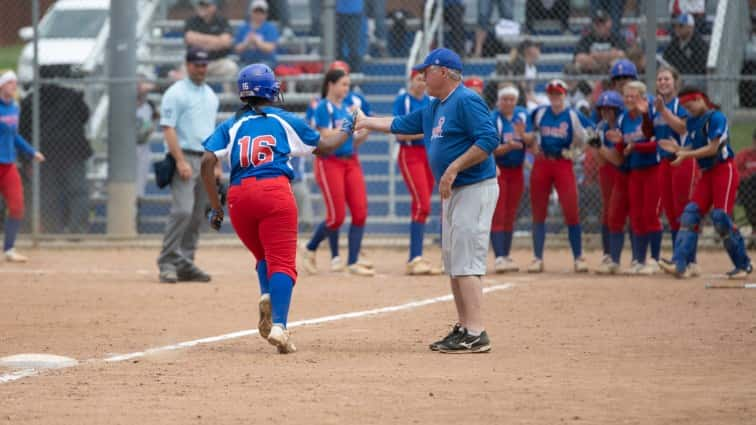 Christian County continued their offensive onslaught of late with three more home runs in a 17-9 win at Logan County Saturday. Reni Shemwell homered twice to up her season total to 10. She also knocked in five runs on the afternoon.
Emmy Blane added her ninth homer of the year as the Lady Colonels banged out 14 hits in the contest.
Logan County scored two runs in each of the first four innings. They led 4-0 on two-run homers by Sydney Lee and Brea Croslin.
Christian County scored five times in the third inning on an RBI singles by Emmy Blane and Hope Jones. Shemwell smacked her first homer of the day to give the Lady Colonels a 6-5 lead. Logan tied the game on a double by Lillie Newman and took the lead when Newman scored on an RBI single by Maddix Mowles.
Tyler Shemwell's double in the fourth put Christian County back ahead 7-6. A Logan error allowed another Lady Colonel run to score.
Logan County wouldn't go away, however. They scored two more runs in the fourth inning to knot the contest at 8-8.
Christian County broke the game open with nine runs in the final two innings. Blane led off the sixth inning with a homer. Tenley Gilbert scored a run with one of her three hits on the day.
Croslin homered for the second time in the sixth to pull Logan to within 12-9. Jones singled home a run in the seventh, and Reni Shemwell cranked a three-run homer for the final margin.
Shemwell finished with three hits and five RBIs. Blane and Gilbert also had three hits, and the first four batters in the Lady Colonel lineup scored 11 runs.
Kennedy Nichols had three hits for Logan County (16-4), while Croslin and Lee each drove in three runs.
Hannah Sumner picked up the complete game win, walking just one batter. Eight of the nine runs she allowed were earned.