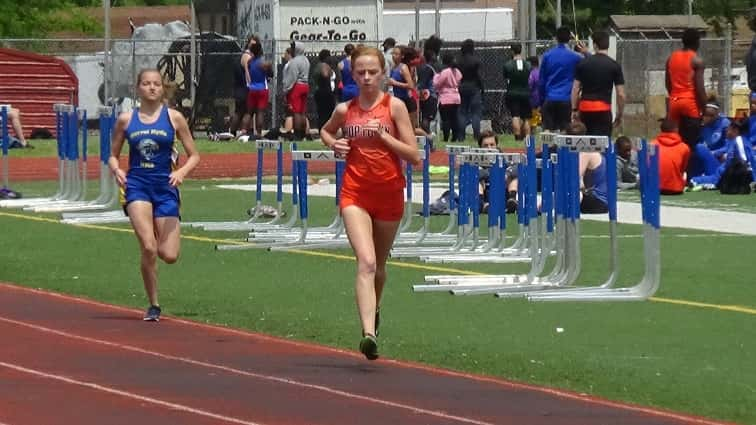 The Hopkinsville track & field team took the top spot in twelve events on Saturday at Fort Campbell, with the boys finishing second and the girls coming in third overall at the Coach Johnson Memorial Classic at Fryar Stadium.  Yogianah McKnight took the top spot in three individual events and picked up a relay win as well to pace the girls, while Xavier Bussell finished first twice individually and also ran in a relay victory.
Keane Mumford was dominant in the discus with a first-place distance of 129-05, with his closest competitor throwing a 119-04.  He also finished second in the shot put with a 45-01.75.
On the track, Bussell swept the 100 and 200M races, posting an 11.38 and a 22.16, respectively.  He also teamed with Tyler Greenwell, JeVon Leavell and Kyren Palmer to win the 4×100 at 42.96, while the team of Greenwell, Leavell, Palmer and DeEvan Williams ran a 1:31.48 to win the 4×200.
Chase Atkins pulled away late from Merrol Hyde's Alex Ponce for a win in the 1600M with a time of 4:37.19, but Ponce turned the tables in the 3200M to take the top spot, with Atkins running second at 10:23.99.
For the girls, McKnight showed her versatility with top finishes in the long jump (17-01.00) and the triple jump (34-07.00), while also winning the 400M with a time of 1:00.57 and joining Jakayla Epps, Dalaysia Chambless and Lailah Moyd to take the 4×400 with a 4:25.09.
Allison Wood carried the load in the distance events for the Tigers, taking first in the 1600M with a 5:46.38, before duplicating the feat in the 3200M with a time of 12:31.07.  She also ran second in the 800M at 2:38.64.