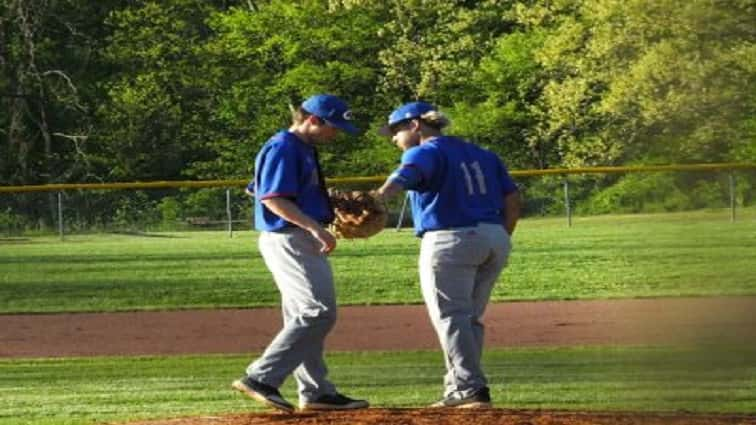 A four-run fifth inning gave the Christian County baseball team a brief lead in its Monday-night match-up with hosts Madisonville-North Hopkins, but the Maroons scored 6 runs in their final two at-bats to top the Colonels 7-4.
Madisonville wins its second-straight to move to 14-11, while Christian County drops its second in a row and fourth in five outings to slip to 13-9 overall.  On Tuesday, the Colonels will have a chance to bounce-back against one of the 2nd Region's hottest teams when they host Caldwell County.  The Tigers have won three-straight, including victories over Trigg County and Paducah Tilghman.
Trailing 1-0 in the top of the fifth, the Colonels got on the board when Austin Fields came home on a passed ball to tie the game.  With the bases loaded, Jase Polley doubled to clear the bases and take a 3-run lead.
But the Maroons answered with 3 runs in the bottom of the inning to tie the game at 4-4, before adding 3 more in the bottom of the sixth for the final score.  The Colonels' Wyatt Stevenson pitched into the sixth, but after hitting a batter with two outs and the bases loaded for Madisonville's final run, Layton Stallons came on to get the final out of the inning.
Stevenson took the loss on the mound, allowing 7 runs, 5 earned, on 9 hits, with 3 walks and 10 strikeouts.
For the Maroons, Blake Reynolds got the win, working two and two-thirds innings with a walk and three strikeouts.  Jake Joseph was the starter, allowing three hits over four innings with three walks and five strikeouts.  Colby Lear got one out in the fifth, yielding 4 runs, 3 earned, on three hits and a walk.