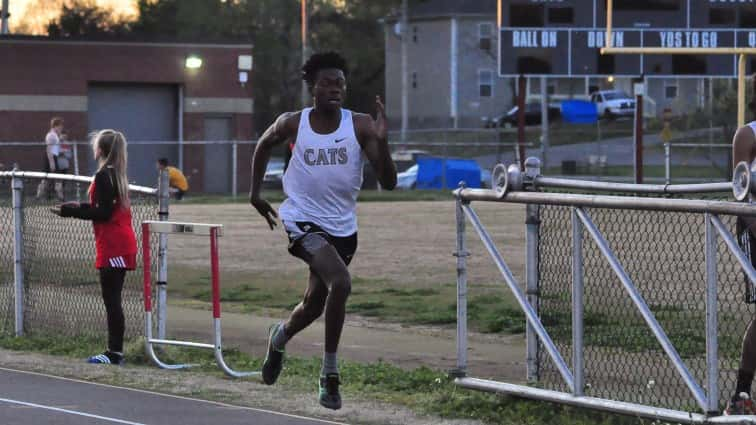 Trigg County took a skeleton squad to the rescheduled Calloway County Laker Invitational Saturday and came away with a pair of top-seven finishes. Almost all of Trigg's upperclassmen did not compete due to the school's prom.
The girls finished in fifth place out of nine teams with 36 points. Paducah Tilghman won the meet with 197 points, with Calloway County second.
Trigg's boys finished seventh with 26 points. Marshall County won the meet with 149.5 points. Paducah Tilghman was second with 127 points.
GIRLS
DeDe Barbee – 2nd in the 400-meter dash (1:03.39); 4th in the 200-meter run (28.99); 8th in the 800-meter run (2:56.80)
Trinity Cavanaugh – 2nd in the 800-meter run (2:37.89); 10th in the 100-meter hurdles (14.04)
Riley Brame – 4th in the 100-meter hurdles (19.73); 6th in the 300-meter hurdles (54.12)
Kylie Alford – 13th in the 400-meter dash (1:14.55); 20th in the 100-meter dash (15.84)
Emily Hopson – 13th in the long jump (12-09); 16th in the 200-meter dash (32.36)
The 800-meter relay team finished third (1:55.81)
BOYS
Jaquellus Martin – 1st in the 200-meter dash (23.34 – New Meet Record); 2nd in the 100-meter dash (11.52)
Tyler Harris – 7th in the 800-meter run (2:48.14); 10th in the 1600-meter run (5:49.34)
Joseph Crawford – 7th in the long jump (14-04)
Marshall Jenkins – 8th in the 1600-meter run (5:35.68); 14th in the 400-meter dash (1:04.35)
Carson Woodall – 9th in the 400-meter dash (59.67)
Apolo Blackbear-Francis – 10th in the 400-meter dash (1:04.35)