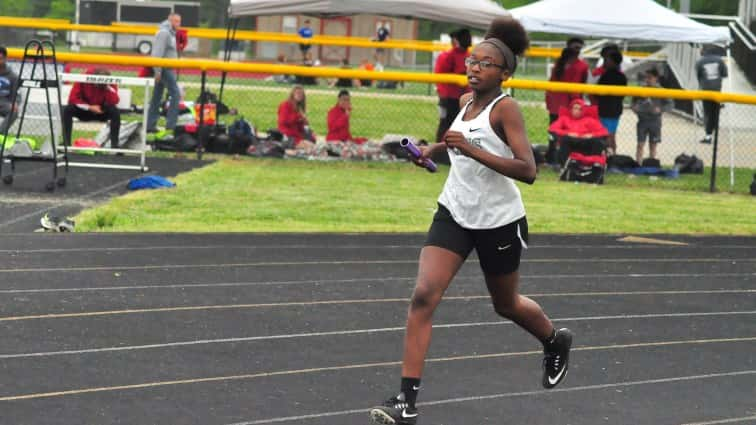 Highlighted by strong finishes in several event, Trigg County's track and field teams finished 10th at the Area 1 Track and Field Championships Friday at McCracken County. This was the last big invitational of the season featuring all of the western Kentucky schools of all classes competing against each other.
Sophomore Jaquellus Martin finished third in the 200-meter dash in a time of 23.49. He also finished fifth in the 100-meter dash in a time of 11.25, which is the fifth fastest in school history and the fastest by anyone not named Al Baker or Greg Bridges.
On the girls' side, eighth grader Trinity Cavanaugh (800 meters) and seventh grader Riley Brame (300-meter hurdles) both brought home top-five finishes.
BOYS
Jaquellus Martin – 3rd in the 200-meter dash (23.49); 5th in the 100-meter dash (11.25)
Kyron Grubbs – 12th in the 100-meter dash (11.79)
Apolo Blackbear-Francis – 13th in the high jump (5-4)
Austin Mitchell – 14th in the discus throw (98-07); 15th in the shot put (33-11)
Shaun Terrell – 14th in the triple jump (35-06); 19th in the high jump (5-0); 24th in the 400-meter run (1:01.55)
Keeton Harris – 18th in the 200-meter dash (27.69); 30th in the discus throw (63-09)
Cade Bleidt – 20th in the long jump (16-03)
Austin Cavanaugh – 21st in the 1600-meter run (5:18.44)
Joseph Crawford – 21st in the long jump (15-0); 26th in the 800-meter run (2:42.81)
Ethan Futrell – 23rd in the 1600-meter run (5:31.44)
Logan Mayo – 25th in the shot put (26-9)
Marshall Jenkins – 23rd in the 800-meter run (2:37.43); 29th in the 400-meter run (1:04.32)
Joseph Crawford – 30th in the 400-meter run (1:06.23)
The 1600-meter relay finished third (3:54.42)
The 3200-meter relay team finished seventh (9:26)
GIRLS
Trinity Cavanaugh – 3rd in the 800-meter run (2:40.67)
Riley Brame – 5th in the 300-meter hurdles (52.95); 10th in the 100-meter hurdles (19:47)
Livi Ricks – 6th in the 3200-meter run (13:31.16)
DeDe Barbee – 8th in the 400-meter run (1:04.44); 8th in the 200-meter dash (29.18)
Lexi Ricks – 11th in the 1600-meter run (6:17.55)
Rylee Bush – 12th in the 300-meter hurdles (57.38)
Kylie Alford – 13th in the 800-meter run (2:54.73); 20th in the 400-meter run (1:13.74); 25th in the 100-meter hurdles (16.57)
Emily Hopson – 19th in the 200-meter dash (31.85); 20th in the 100-meter dash (15.29); 22nd in the long jump (12-01)
Taziah Cavanaugh – 21st in the shot put (21-01.50); 25th in the discus throw (51-06)
Breeanna Barnes – 21st in the 1600-meter run (7:20.84)
The 1600-meter relay team was third (4:37.94)
The 3200-meter relay team finished fourth (10:58)
The 800-meter relay team finished fifth (1:53.41)
The 400-meter relay team finished ninth (56.26)