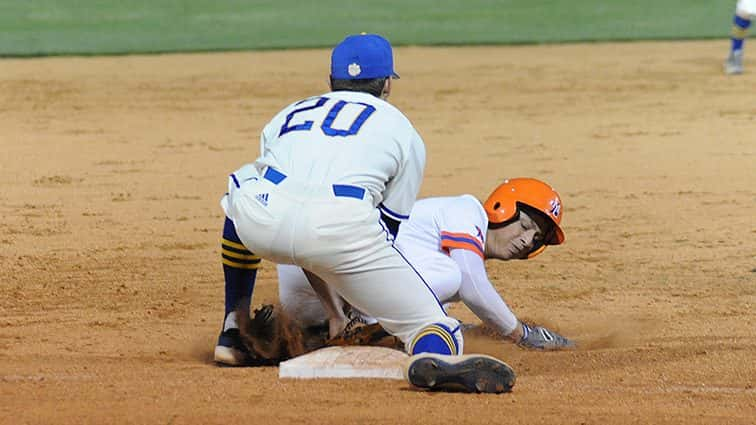 Caldwell County's Easton Thompson tied the game with a two-out, two-run double in the top of the seventh inning. However, Marshall County chased home a run in the bottom of the eighth inning to nip the Tigers 3-2 on Monday in the nightcap of the CFSB Challenge doubleheader at Murray State University.
Going to the seventh, Caldwell was in danger of being no-hit by Marshall junior pitcher Riley Harris.
The Tigers did not record a base until Tate VanHooser singled into left field with one out in the top of the seventh. Cody Holub then grounded into a fielder's choice at shortstop for the second out of the inning.
But John Davis lined a single to left to put a pair of runners on for Caldwell. Thompson followed with a double to deep left-center, chasing home both Holub and Davis to tie the game at 2-2.
The Tigers then had a chance to take the lead, but a fly out to left ended the inning.
The teams played on to the eighth inning, with a pair of Caldwell errors helping Marshall score the game-winning run with one out.
Marshall (26-5) had taken the lead with single tallies in the fifth and sixth innings.
Isiah Neeble was 2-for-3 with a pair of doubles for the Marshals. Tyler Belcher went 2-for-4.
Caldwell finished with four base hits, getting the double from Thompson and singles from VanHooser, Davis and Gabe East.
East turned in a strong performance on the mound for the Tigers. He went 5.2 innings, allowing just one earned run on six base hits. East struck out three and walked three.
Harris went all eight innings for Marshall. He allowed two earned runs on four hits while fanning six and walking two.
Caldwell (14-13) has now dropped three straight games. Losses to Hopkinsville, Union County and Marshall followed a four-game winning streak for the Tigers.
Carlisle County beat Lyon County 3-1 in the first game of the CFSB Challenge at MSU's Reagan Field.