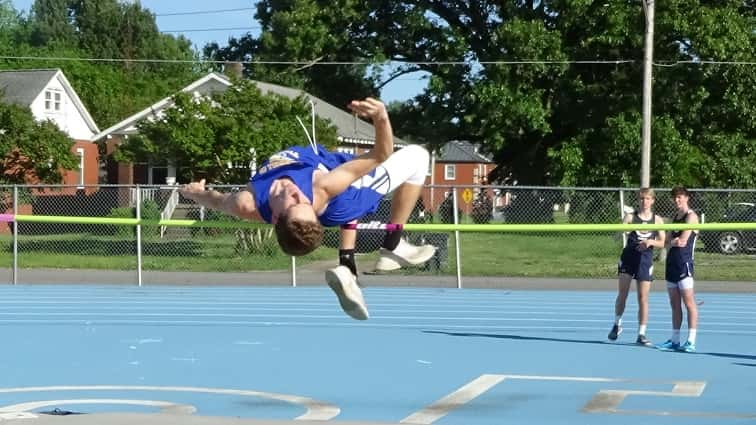 The Caldwell County track and field team competed in the Region 1 Class AA meet at Paducah Tilghman on Monday night, with the boys and girls each finishing 6th overall.  Both the boys and girls enjoyed top-five finishes in multiple relay events, while Tayjon Bumphus and Dylan Cavanaugh posted 4th-place individual finishes in the 300M hurdles and shot put, respectively.
The boys 4×100 relay team of Ethan Weatherspoon, Cavanaugh, Kyreese White and Trace Olden finished 3rd with a time of 45.40, while Weatherspoon, Baron Wells, Colin Paris and Elijah Shaheen posted a 1:39.36 in the 4×200, good enough for fourth.
Individually, Cavanaugh took 4th-place in the shot put with a 38-04.00 and Tayjon Bumphus was 4th in the 300M hurdles with a 48.28.  Ethan Newsome ran 5th in the 3200M with a time of 12-04.20.
Also earning medals for the Tigers on the boys side were Trace Olden with a 6th-place 20.70 in the 110M hurdles and TyQuan Bumphus with a 59.36 in the 400M, also finishing sixth.
Like the boys, the girls' night was highlighted by relay performances, with the team of Christina Thatcher, Jillian Choate, Avery Wells and Tamia Walker finishing 5th with a time of 56.65 in the 4×100 and Amaya Merritt joining Choate, Wells and Walker in posting a 1:58.76 in the 4×200, also good enough for fifth.  Choate and Merritt teamed up with TJ Goodwin and Addyson Schott to take 5th in the 4×400, posting a 4:54.79.
Individually, Walker ran 6th in the 100M with a time of 13.83, with Merritt finishing 6th in the 400M with a 1:12.41.  Also, Kaylee Brown earned a medal in the discus, taking 6th with a distance of 70-08.