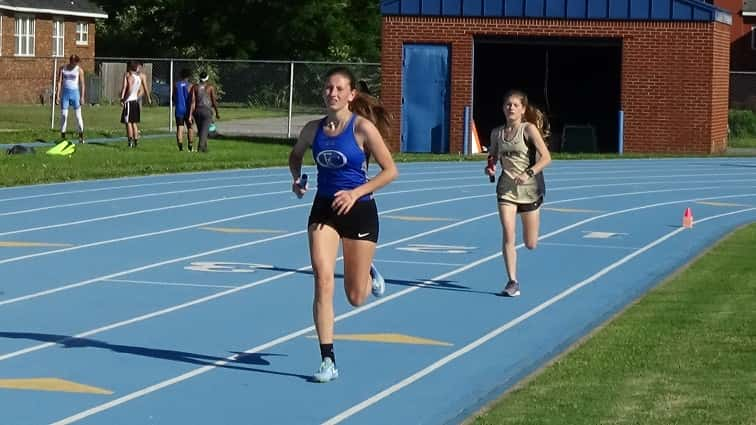 The Fort Campbell boys got top finishes in the field from Austin Keeling and Doryan Hall, while the girls used top-two efforts from Jahlyn Mincey and Sheree Pollock and a pole vault title by Angel Manalang to post a strong showing at Monday night's Region 1 Class AA track and field meet at Paducah Tilghman.
The Falcons also enjoyed success in the relay events, with the boys' team of Rafael Cerritos, DeAndre Jackson, Monroe Thomas and Deontez Jenkins running 2nd in the 4×400 with a time of 3:38.22, while Thomas and Jenkins joined Brandon Clay and Gabe Gamez to take runner-up in the 4×800 with a 8:57.44.
The 4×100 team of Cerritos, Hall, Jackson and Camden Hyde ran 4th with a time of 46.51, while Ke'Shawn Daniels, Jackson, Hall and Hyde took 3rd in the 4×200 with a 1:36.69.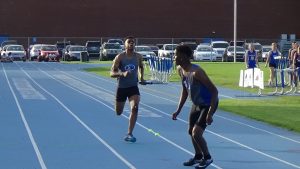 The girls' relay team of Dominique Burrell, Ayonna Daniels, Mincey and Dextiana Morris finished 2nd in the 4×100 with a 51.71, while Keionna Brown, Mincey, Daniels and Dominique Burrell took 3rd in the 4×200 at 1:51.51.  Burrell, Caterina Martineau, Diamond Jenkins and Lilliauna Powers earned a medal with a 4th-place 4:42.08 in the 4×400 and Powers, Martineau, Haylee Davee and Hope Garza were 4th in the 4×800 with a time of 11:21.00.
Individually on the track for the boys, Cerritos ran 3rd with a 52.04 in the 400M, followed by Jackson in 5th with a 54.94.  Hall posted an 11.51 in the 100M, good enough for 4th, while Hyde finished 4th in the 110M hurdles with a time of 18.38 and John Montalvo followed in 5th with a 20.56.  Ahmaad Barnette came in 5th in the 300M hurdles at 49.76 and Jenkins ran 6th in the 800M at 2:23.71.
Mincey led the girls on the track, taking 2nd in the 100M with a time of 12.95, followed by Daniels in 5th with a 13.41.  Mincey ran 3rd in the 200M with a 26.78, followed again by Daniels in 4th with a 27.88.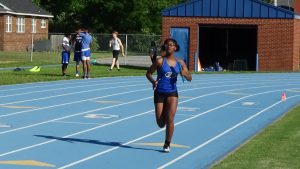 Dextiana Morris came in 4th in the 100M hurdles at 18.45, followed by her sister Ty'Kevia in 5th with an 18.75.  Talya Jones ran a 1:08.32 in the 400M, good enough for 4th, while Burrell turned in a 1:10.78 to take fifth.  Martineau finished 4th with a 2:48.18 in the 800M, with Garza right behind in 5th at 2:49.32.  Garza also ran 5th in the 1600M at 6:23.33.
In the field, Hall and Keeling went 1-2 in the long jump, with distances of 21-00.50 and 19-06.00, respectively.  Keeling took the top spot in the triple jump, exceeding Tighman's Damien Ford in second by two feet at 44-02.50.  Treyton Russell jumped a 37-10.00, good enough for fifth.  Keeling also finished 4th in the high jump, but was out-jumped by teammate Ke'Shawn Daniels with a 2nd-place height of 6-00.00.  Jayden Sinclair-Salomon came in 4th in the discus with a 95-01, followed closely by Quincy Brown with a 5th-place 92-11.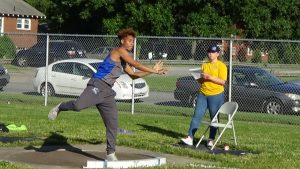 For the girls, Manalang took the region title in the pole vault with a 7-06.00, while Sheree Pollack finished runner-up in the high jump with a 4-06.00, followed by Aliya Powers in 4th at 4-06.00.  Jasmine Ward jumped a 14-00.75 to take 4th in the long jump, with Powers in 5th at 13-11.50.  Emma Syester claimed a medal in the shot put, finishing 5th with a 28-02.00.