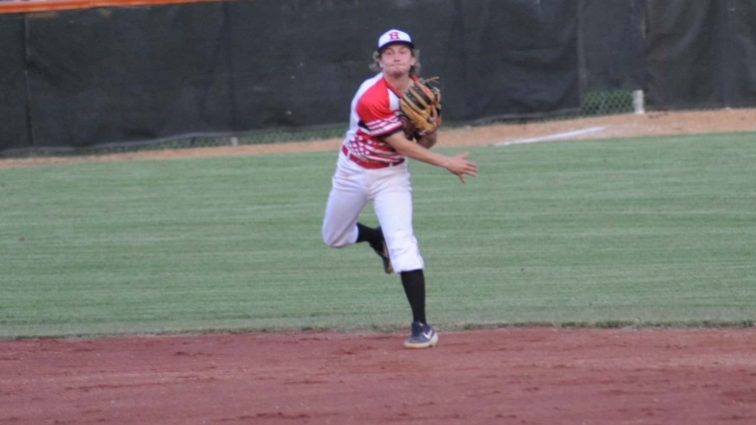 Franklin may want to play more games in Hopkinsville this season. The Franklin Duelers took advantage of some "generous" Hoppers pitching and fielding to pick up a win in their first ever trip to Hopkinsville. The first year team scored six runs in the top of the first inning on their way to a 19-6 win in seven innings Sunday evening at Hopkinsville High School.
Hoppers starter Clay Simpson had his troubles in the opening half inning. Simpson walked four and hit one as the Duelers jumped out to an early 6-0 lead.
Franklin would add two more runs in the top of the third inning off a pair of hits and a sacrifice fly to push the lead out to 8-0.
The Hoppers got their bats going and made a move to get back in the game in the bottom of the third inning. Hoptown cut the lead in half at 8-4 on RBI singles from Drew McGowan, Jacob Jenkins, Robbie McCarGar, and Charlie Fischer.
The top of the 4th inning saw Franklin begin to rebuild the lead and increase it. After giving up his 6th walk and hitting his 5th batter, Clay Simpson was replaced by Jacob Lents. Things got off to a rough start for the new Hoppers hurler as well, as he promptly gave up an RBI single, while his defense gave up a run on an error, as the Fulton lead grew to 10-4. The lead increased to 11-4 on a sacrifice fly. An RBI single drove in two more runs to make it 13-4.
The Hoppers scored individual runs in the 4th and the 5th to trim the lead to 13-6.
The Duelers then put the game away in the top of the 6th, again taking advantage of timely hitting and Hopper pitching struggles to score six more runs to blow the game open to 19-6. The game ended after the bottom of the 7th due to the new 10 run rule after seven innings.
Cameron Hill led the Hopper effort, going 3-3, with an RBI, and two runs scored. Charlie Fischer was 2-3, with an RBI, and a run scored. Jacob Jenkins ended up 2-4, with an RBI, and a run scored.
Clay Simpson took the loss for the Hoppers, going 3 1/3 innings, giving up ten runs, nine of them earned, on just four hits.
The Hoppers struggled from the mound and in the field all game long. They were charged with three errors, eleven walks, and five hit batters.