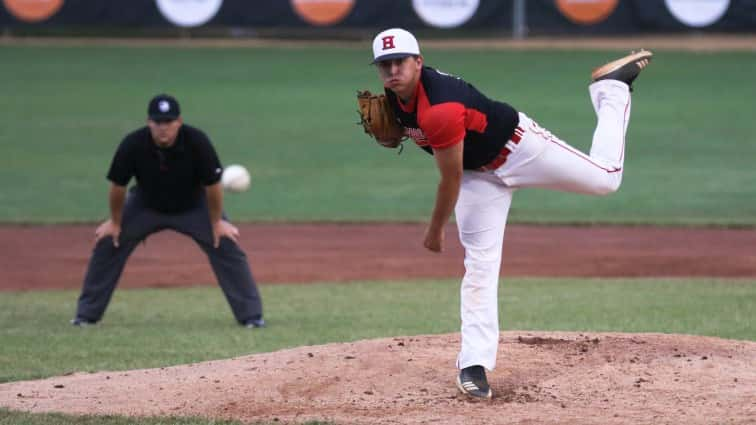 Three Hoptown pitchers combined on a one-hitter as the Hoppers extended their winning streak to seven games with a 9-1 victory at Muhlenberg County Friday.
Cam Barlow struck out 10 and walked one over seven innings to improve to 3-0. The run he allowed was an unearned run, and he didn't allow a hit. He lowered his season ERA to 1.68.
Drew McGowan and Ben Huber combined to pitch the final two innings, combining to allow one hit and striking out two.
The Hoppers had no such problem with their offense, banging out 12 hits as five different players had two hits.
Brennan Crooms got the Hoppers on the board with a two-run home run in the first inning. Brendan Nee doubled home a run in the second inning and later scored on a Jacob Jenkins groundout for a 4-0 Hopper lead.
Ben Huber and Hunter Evans smacked back-to-back doubles in the third inning, and Micah Genter followed with an RBI single for a 6-0 lead.
Genter added another RBI single in the fifth inning to extend the Hopper lead to 7-0. Santrel Farmer continued to sizzle at the top of the Hopper lineup. He walked and stole two bases in the game, including a steal of home in the sixth inning to push their lead to 8-0.
Muhlenberg County scored their lone run in the sixth inning when Tad Marks walked, was sacrificed to second and scored on a Hopper error.
The Hoppers added an insurance run in the ninth when Seth Bennett doubled and scored on another Evans double.
Crooms, Evans, and Genter each finished with two hits and two RBIs, while Jenkins and Huber also had a pair of hits.
The Hoppers improved to 8-3 with their seventh straight win – their longest winning streak since an 11-game win streak in 2016. Their win coupled with Paducah's 12-6 loss to Madisonville moved the Hoppers into sole possession of first place in the Ohio Valley League West Division for the first time this season.
The Hoppers will host Muhlenberg County Saturday night at 7:00 at Hopkinsville High.