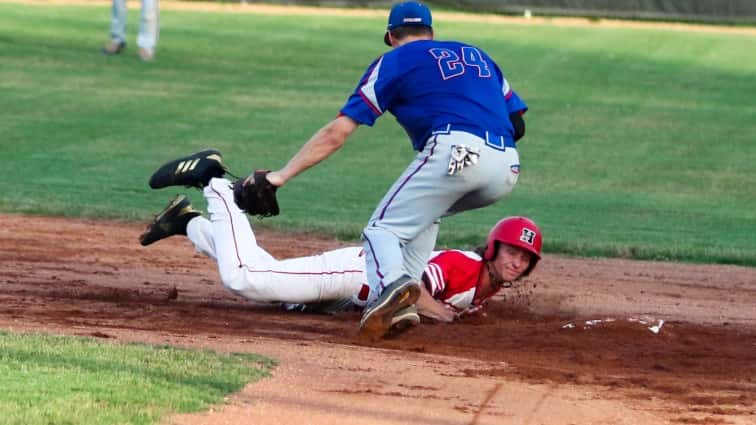 Charlie Fischer provided the fireworks on the field, and the Hoptown Hoppers provided them afterwards as the Hoptown Hoppers rallied for a 3-2 win over Franklin Friday at Hoptown's Tiger Field.
The Southern Miss product led off the ninth inning with an opposite field home run that cleared the left field fence and sent the Hoppers to their second straight win. Fischer also had a two-out double that one-hopped the left field fence in the fourth inning but was stranded.
The teams combined to throw four scoreless innings to begin the game. Clay Simpson, who was roughed up in his last start in Madisonville last Sunday, rebounded with four innings of one-hit baseball. He struck out five and allowed just one run.
Tyler Walton added four solid innings, allowing three hits and one run while striking out four.
Two walks set up Franklin's first run in the fifth inning. Simpson walked the first two Franklin batters. Walton came on in relief and was greeted with a sacrifice bunt and Trejen Birdwell single that plated the game's first run.
Tim Blankenberger led off the Franklin sixth with a double and later scored on a sacrifice fly for a 2-0 Dueler lead.
Brant Alazaus, who pitched a no-hitter for Franklin earlier this year, allowed five hits in seven innings and struck out seven while walking no one.
The Hoppers got on the board in the eighth inning when Drew McGowan bounced a hit through the hole on the right side. McGowan then stole second. Seth Bennett laced a two-out single to right to score McGowan. Franklin looked to be out of the inning when Greg Mehlhaff hit a grounder to second base. However, the ball was booted, and Bennett never stopped running around third and beat the throw home to tie the game at 2-2.
Chandler Kendall (3-1) pitched a 1-2-3 ninth inning to get the win for the Hoppers.
Fischer, McGowan, and Cade Burkey each had two hits for the Hoppers.
A crowd of 551 watched the game – the Hoppers' largest home crowd since opening night.
The Hopper win, coupled with Paducah splitting a Friday doubleheader with Dubois County, moved Hoptown 1.5 games ahead of the Chiefs in the OVL West standings.
The Hoppers will host Muhlenberg County Saturday night for First Responders Night at the ballpark.