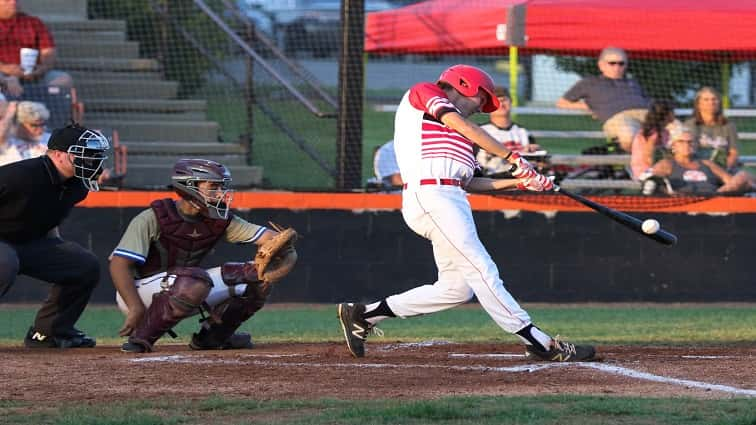 The Hoptown Hoppers came from behind with big innings in the sixth and eighth, before withstanding a late-inning grand slam to beat visiting Muhlenberg County 18-12 Tuesday night at Tiger Field.  The Hoppers have won four of five to improve to 18-11 overall with a visit from the Owensboro RiverDawgs scheduled for Wednesday.
Trailing 4-2 in the top of the sixth, the Hoppers took advantage of a couple of Stallion errors that would have ended the inning to push across 7 runs.  Charlie Fischer capped the rally with a 2-run double to the center-field wall for a 9-4 advantage.  However, Muhlenberg's Jake Edwards came through with a bases-loaded double in the bottom of the inning to pull the Stallions back to within a run.
Seven of the first eight Hopper batters drew walks to start the eighth, while Fischer, Micah Genter, Cameron Hill and Ben Huber each had RBI singles to take a commanding 18-8 lead.
Hoptown's Hunter Arnold took the mound in the bottom of the inning, but yielded three walks before giving way to Michael Conn.  Down to their last out, Muhlenberg's Adrian Minjares launched a Conn offering over the left-field fence for a game-prolonging grand slam.
Neither team scored in the ninth, with Genter coming on to strike-out the final three Stallion batters to seal the victory.  Cam Barlow got the win, working five and a third while allowing 4 runs, 2 earned, on six hits with three walks and eight strikeouts.
Fischer led the Hoppers at the plate with a couple of hits and 3 RBI, followed by Huber, Genter, and Cade Burkey with 2 RBI each.
Blake Shelton took the loss for Muhlenberg, recording only one out in the sixth while giving up 7 runs on three hits and three walks.  Minjares and Edwards each had a couple of hits and 5 RBI for the Stallions.