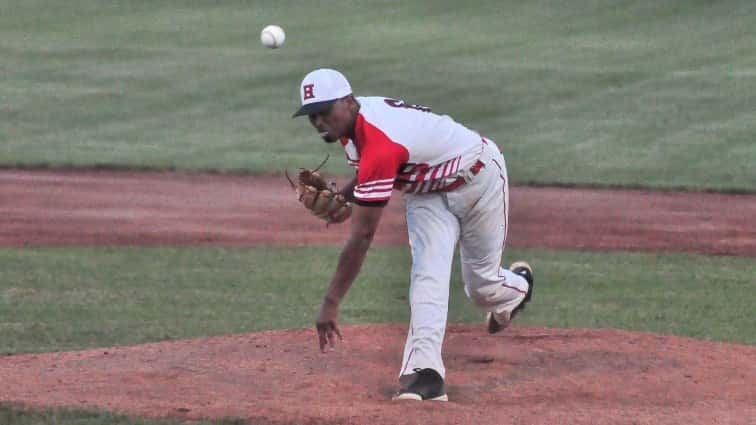 Players from Second Region schools are making their mark on the Ohio Valley League this summer as they look to improve their game for the 2020 college baseball season at their schools.
The Hoptown Hoppers have four players on their roster who played at Eighth District schools. Wyatt Stevenson, Lane Diuguid, and Koby Silvy all played for Christian County, while Drew McGowan played at University Heights Academy.
Stevenson, who has already reported to the University of Louisville for his freshman season, hit .417 in seven games for the Hoppers with six RBIs and nine runs scored. On the mound, Stevenson was 2-1 with a 3.85 ERA in four games.
Diuguid has been a bright spot in the Hoppers' rotation, posting a 3-2 record with a 3.60 ERA. He is among the league leaders in strikeouts with 37 in 35 innings.
McGowan raised his batting average 100 points in the past month to .382. He has driven in 19 runs and is second on the Hoppers with 28 runs scored.
Silvy was a late addition to the Hopper roster and has pitched one inning this summer.
Former Trigg County all-region player Tyler Estes is batting .262 for the Franklin Duelers. After missing the first two weeks with a foot injury, Estes has rebounded to score 11 runs and drive in six runs.
Justin Hallum, a former standout at Madisonville-North Hopkins High School, is 1-1 on the mound for the Madisonville Miners this summer. He has struck out 14 batters in 21 innings and has a 6.00 ERA.
With seven, the Henderson Flash have the most former Second Region players on an Ohio Valley League team roster. Four players are from Caldwell County.
Bryce Thomas is batting .286 with seven RBIs and 11 runs scored. Four of his 10 hits are doubles. On the mound, Thomas is 1-2 in nine games for the Flash.
Noah Brown is batting .333 with a home run and nine RBIs in 20 games played. His on-base percentage is .486 entering Thursday, and Brown has scored 12 runs.
Both Ty Ramey and Bryar Riley have pitched in one game for the Flash, with Ramey picking up a win in extra innings.
A pair of former Henderson County Colonels are seeing time with their hometown team as well.
Nolan Melton is batting .267 in 23 games for the Flash with one home run and 23 RBIs. His former high school teammate Jake Murdach is hitting .160.
Meanwhile, 2018 region player of the year Trey Hutchison from Union County is hitting .352 for the Flash with four home runs and 24 RBIs.
Hutchison's former teammate at Union County, Bo Robison, is 5-0 with one save for the Owensboro RiverDawgs. Robison has a 5.47 ERA in 23 innings pitched.
Caldwell County's Gabe East has appeared in four games for the Paducah Chiefs. He is 1-0 on the mound with a 7.24 ERA. He has struck out 18 batters in 13 innings.
The Ohio Valley League, a wooden bat summer collegiate league, is entering the final week of its regular season with the postseason to begin next weekend.