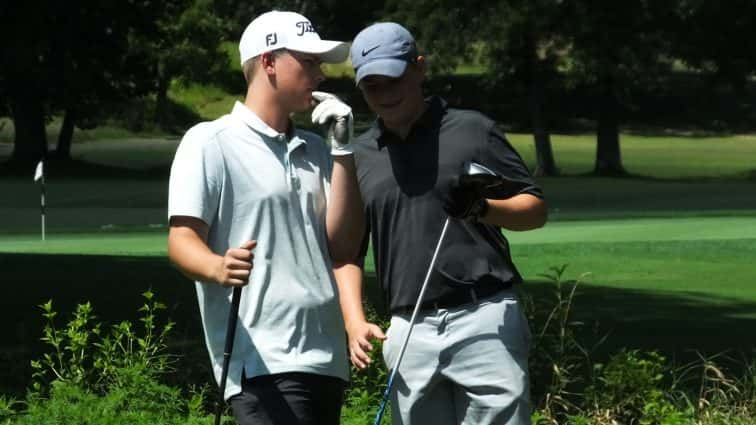 Trigg County cruised to the team win, while Crittenden County's Sam Greenwell came away as the individual medalist in a 3-way golf practice match Thursday afternoon at the Boots Randolph Golf Course. Trigg County, Hopkinsville, and Crittenden County competed in the 18 hole match. Paducah Tilghman also had three golfers compete, but the three golfers only played nine holes for the day.
Greenwell was consistent over the course of the day, shooting a 37 on the front nine and a 38 over the back nine to finish at 75. Trigg County's Ty Butts finished one stroke back at 76. Butts shot a 39 over the front nine and then closed out with a 37. Trigg County's Hunter Reynolds and Grayson Thomas tied for third with scores of 78.
In the team competion, Trigg picked up the win, with a team score of 318. Hopkinsville finished second at 331. Crittenden County was third at 366.
Scores
Trigg County
Ty Butts 39-37 — 76
Hunter Reynolds 41-37 — 78
Grayson Thomas 42-36 — 78
Trey Carr 46-40 — 86
Hopkinsville
Will Binkley 42-37 — 79
Evan Pyle 45-36 — 81
James Folz 45-38 — 83
Calvin Demps 47-41 — 88
Crittenden County
Sam Greenwell 37-38 — 75
Jerimiah Foster 47-45 — 92
Landon Crider 49-48 — 97
Evan Bell 51-51 — 102