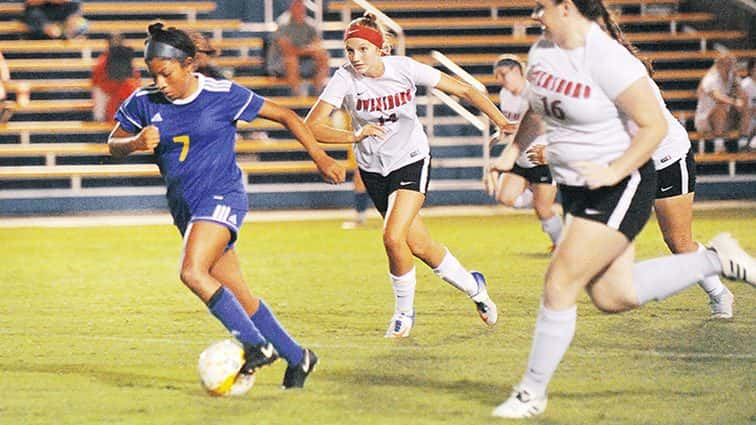 Caldwell County girls' soccer coach Rhett Miller knows what his team has to do to win more games this season — score more goals.
Two of the Lady Tigers' top offensive weapons graduated last season with Laney Fletcher and Allissa Traylor each accounting for 15 goals as Caldwell went 11-13 in 2018.
However, leading scorer Kaylee McEnaney returns after netting 21 goals and seven assists last year as a sophomore.
Joining her up front will be senior Lucy Goffinet and junior Hannah Young. Young makes the move to an offensive position after playing a defensive role in the past.
At the midfield, juniors Morgan McDaniels and Abby Hagan and freshman Laken White figure to be the starters.
The defense will be anchored by senior Maggie Ginn and junior Kelsie Adams in the middle with senior Audrey Wynn on the right and sophomore Hadlee Hall on the left.
Junior Karsyn Parker returns to the Lady Tiger soccer program and takes over the in the net, giving Caldwell added athleticism at the goalkeeper spot.
Junior Kendall Boyd and freshman Avery Ritchie will be among the first reserves to take the field — and could even draw starting duty — along with senior Madison Smith.
The Lady Tigers have some depth this season, with 23 eligible for varsity play and 37 total players in the program.
Caldwell scored 3.3 goals a game last year but surrendered 3.6 goals a contest. Miller, a former boys' soccer head coach at Caldwell, thinks both of those numbers should improve in the Lady Tigers' favor this season.
In the 7th District, Madisonville-North Hopkins is the favorite after capturing the championship last season. However, Caldwell won back-to-back district titles in 2016 and '17. The Lady Tigers were regional runners-up to Henderson County in 2017.
After winning both of their preseason scrimmages (beating Mayfield 5-0 and Owensboro 3-0), the Lady Tigers will open the 2019 regular season on Monday at Webster County, playing the first game of a girls and boys varsity doubleheader.
The first home date for Caldwell's girls is Thursday, Aug. 15, against Owensboro Apollo.