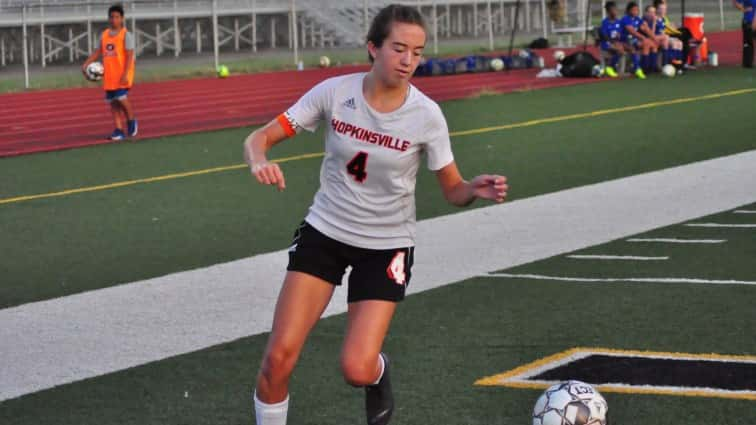 Sarah Johnston found herself in the right place at the right time on three different occasions Monday night. The Hopkinsville senior scored a hat trick to help the Lady Tigers to a 5 to 1 win at Fort Campbell in the district opener for both teams.
Twice in the first seven minutes of the game, Johnston was the beneficiary of Abby Moss corner kicks with Johnston putting both in the back of the net for a quick 2-0 Hopkinsville lead.
The Lady Tigers pushed their advantage to 3-0 at the 15 minute mark when Morgan Woosley's high throw-in bounced off of the Fryar Stadium turf and over the head of the Lady Falcon goalie Angel Manalang.  Ana Hernandez found herself with the ball in front of the net and deposited it for her tenth goal and her first three games.
The Lady Tigers continued to win the battle at midfield and scored their fourth goal of the half in the 30th minute when Woosley scored off of a rebound.
Hopkinsville outshot Fort Campbell 15 to 5 in the first half and 21-10 for the contest.
Hoptown scored nine minutes into the second half when Hernandez was fouled in the box, and Johnston finished off her hat trick with a successful penalty kick.
Fort Campbell continued to push the tempo and dented the scoreboard in the 63rd minute when Kaitlyn Cervantes floated a 25-yard shot into the back of the net.
Fort Campbell dropped to 1-2 on the season and will play at West Creek, Tenn. Wednesday.
Hopkinsville is off to a 3-1 start and will look to move to 2-0 in the district when they host University Heights Academy Wednesday.