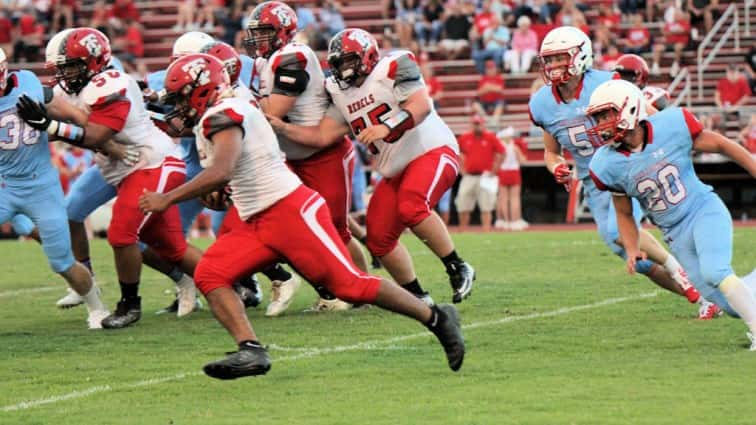 Todd County billed themselves as a 'three yards and a cloud of dust' team in the preseason but used an air attack to beat Calloway County 21-20 Friday in Murray. Bryce Nolan connected with D.J. Johnson through the air for three touchdowns to help the Rebels post the come-from-behind win.
Calloway County got on the board first when Laker quarterback John Foster hit Montreal Rogers for a 16-yard score late in the first quarter.
Johnson had a long touchdown called back with a flag in the second quarter, but managed to score Todd Central's first touchdown of the year on a 30-yard reception from Nolan with just over two minutes left in the first half.
However, Calloway County needed just four plays to take a 14-7 lead into the locker room at halftime. The drive was capped off by a 7-yard run by Jacob Watters.
In the third quarter, Foster was knocked from the game with a shoulder injury. Todd County took advantage, forcing a punt and scoring on a 20-yard strike from Nolan to Johnson. The two-point conversion gave the Rebels a 15-14 lead with 1:35 left in the quarter.
With sophomore Kanyon Franklin at quarterback, the Lakers drove into Rebel territory and recaptured the lead on a Zach Orange TD run. The two-point conversion failed, giving Calloway a 20-15 lead early in the fourth quarter.
With Calloway driving at the midpoint of the final quarter, a fumble gave the football to the Rebels. Nolan's third touchdown of the night to Johnson, a 28-yarder, gave the Rebels a 21-20 lead with 4:37 left.
The is only the second time in the past nine years that Todd County won their season opener and the first time since 2005 that the Rebels won a season opener on the road.
The Rebels will make the long haul to Fort Knox Friday for a contest on post against the Eagles.