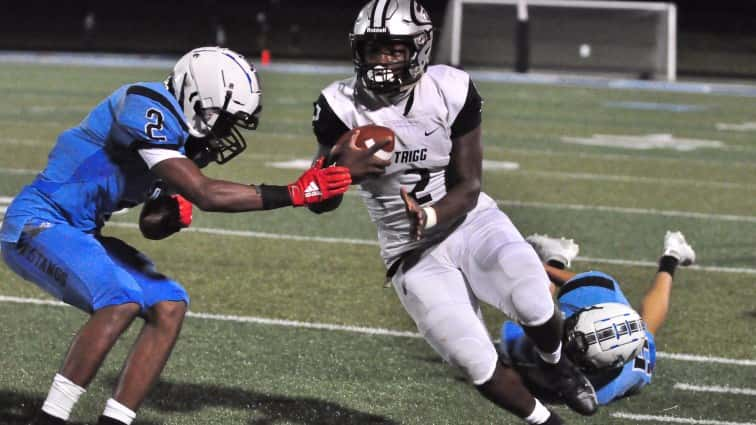 Trigg County broke open a close game with three third quarter touchdowns in opening the football season with a 40-0 win at Muhlenberg County Friday. It's Trigg's first shutout in a season opener since 1989.
The Wildcats controlled the game throughout, limiting the Mustangs to 71 yards of offense and no first downs in the second half.
Trigg County drove to the Muhlenberg 1-yard line on their opening drive, but a 15-yard unsportsmanlike conduct penalty caused it to stall.
After a bad punt snap by the Mustangs on their ensuing drive, Cam Jordan capped off the drive with a 4-yard touchdown run with 1:45 left in the opening quarter.
Jordan added a 10-yard touchdown run on Trigg's next drive that put the Wildcats ahead 13-0 with 6:42 left. The Trigg County quarterback finished the game with 55 rushing yards on 16 carries.
Muhlenberg County drove inside Trigg territory late in the third quarter but saw their drive stall right before halftime.
Trigg County broke the game open with three touchdowns in the final 5:46 of the third quarter, with two of the scores set up by Muhlenberg fumbles. Tayshaun Barker reached the end zone on a 9-yard run for a 19-0 Wildcat lead.
Jakobe Bridges scored the next two touchdowns – one on a 12-yard pass from Jordan and the other on a 2-yard run.
Trigg's final score came on a 19-yard run by Jacob Johnson, who finished with 35 rushing yards on four carries. Barker added 52 yards on 10 carries as Trigg County totaled 164 yards on the ground.
Jordan was 9-of-14 passing for 76 yards. Trigg's offense did not turn the football over.
Muhlenberg County managed just 18 rushing yards on 22 carries. Trigg had 18 first downs to just three for the Mustangs – all in the first half. Trigg's defense recovered two fumbles – two by senior Ryan Graff.
Kion Thompson had one catch for 27 yards, and Josh Visingardi added two catches for 26 yards to lead the Wildcat receivers.
Trigg County's win marks the first time in 12 years the Wildcats have won consecutive season openers. They beat Monroe County 34-20 in last year's Scottie Bowl in Glasgow.
The Wildcats play their home opener Friday when they host Fort Campbell, a 43-14 loser to Crittenden County in their opener.