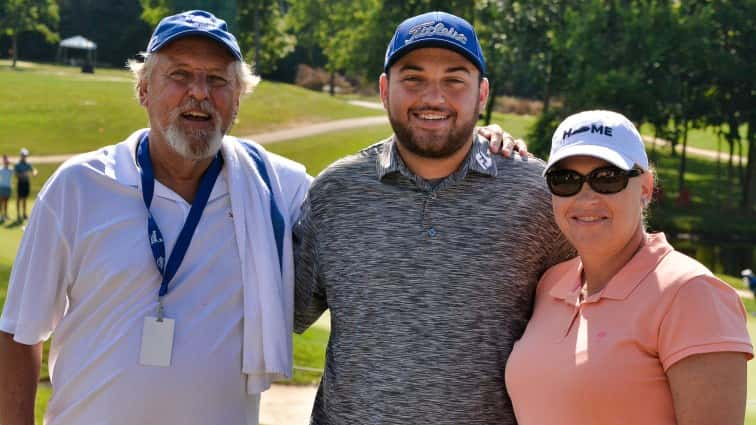 The first time I really remember hearing the name Cullan Brown was when he won the high school golf championship in 2016 and I paid attention to his career until he eventually signed to play for Kentucky.
My first time to meet him came at the 2018 PGA Tour's Barbasol Championship when I came to watch LPGA golfer Emma Talley of Caldwell County play in the Pro-Am. Brown has been friends with Talley, a former NCAA champion at Alabama, for years and he also came to watch her play along with his mother.
This summer I got to watch Brown play in the Barbasol Championship on a sponsor's exemption. He not only made the cut, but he finished 53rd and seemed set for a terrific sophomore season.
The last thing I was expecting when I got home from the UK-Toledo football game was news about Brown. It had been announced last week he would not play in UK's opening match but I didn't think a lot about it.
Then I saw the news — Brown had withdrawn from UK because he has a rare form of bone cancer. Brown announced Saturday that he was diagnosed this past week with osteosarcoma, a rare type of bone cancer.
"My family and I are immensely appreciative of the outpouring of kind words, well-wishes, love, and prayers we have received in the last few days. It certainly will be a tough year, but nothing that can't be handled thanks to the amazing support group I have behind me at all times," Brown said in a released statement.
From what I can gather, the condition was found because he had injured his knee in a minor accident but got it checked to see if there might be bone/ligament damage. Instead, the cancer was discovered and now he'll need chemotherapy treatments.
Brown missed the 2018 fall season with a wrist injury but was superb in the spring. He made the Southeastern Conference all-freshman team.
Brown was so happy and optimistic about this season in July at the Barbasol Championship. He was proud of the way he played in the PGA event and thought it would be a springboard to a terrific sophomore season.
There's not a more personable, likable young man than Brown. As good as he is on the court, he's even better off the course. He'll do anything to help you and no one works harder at his craft. His family is terrific, too, and can laugh with him or at him equally well. He's quite the BBQ cook and fisherman.
No idea exactly what he faces in the coming months, but there are no easy battles with cancer. However, I know Brown is going to have a lot of prayers and support coming his way because it's impossible not to like him.
He's way too early for this — just like UK football player Josh Paschal was last year. Paschal is now back playing and made a huge difference for coach Mark Stoops' team in Saturday's 38-24 win. Here's hoping a year from now Brown will be doing exactly the same thing for the UK golf team.