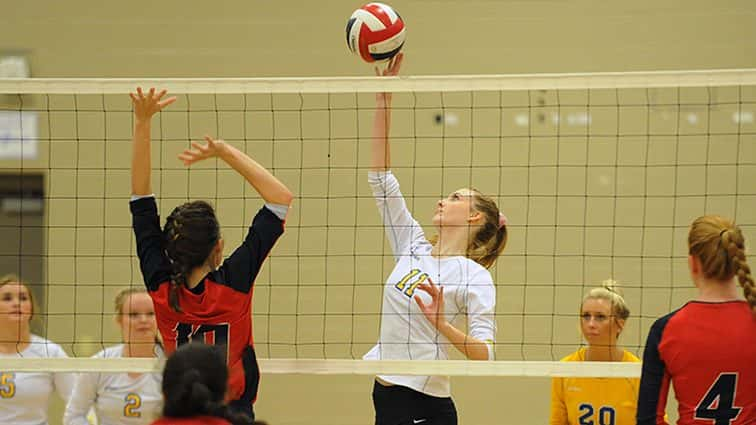 Olivia Mitchell had 15 kills and two blocks while Abby Griggs recorded 12 kills as Caldwell County rolled to a 3-0 triumph over 7th District foe Hopkins County Central in Thursday night volleyball action.
The Lady Tigers, now 7-1 overall and 1-0 in district play, were never threatened in the contest, winning by scores of 25-6, 25-10, 25-9.
Mitchell added five aces for Caldwell, which improved to 38-1 all-time against the Lady Storm.
Griggs added four digs and an ace for the Lady Tigers, who won the 2nd Region All 'A' Classic championship just one night earlier at Fort Campbell.
Savanna Tays had 19 set assists, three kills and four digs for Caldwell while Kendyll Prowell added 16 set assists, a kill, four digs and two aces.
Mary Tays had seven kills, four aces and two digs while Riley Thomas recorded 12 digs and an ace for Caldwell, which used its bench extensively in the contest.
Hopkins Central is 2-5 and 0-1 this season.
Caldwell also won the junior varsity match 21-9, 21-15 behind three kills and four digs from Lily Hoard. Adi Sullenger had 10 set assists while Maggy Griggs totaled two kills and eight digs. Kynady Thomas finished with two kills, two digs and four aces.
In the freshman match, Caldwell won 21-17, 15-21, 21-18. Claire Knoth recorded four kills, four digs and and two aces. Katie Menser and Laynee Cannon each had three kills. Kyndra Winters had 14 set assists. T.J. Goodwin added seven digs, two kills and two aces in the freshman contest.
Caldwell's varsity squad will next play in the wRECk at the Plex Friday and Saturday in Hopkinsville.