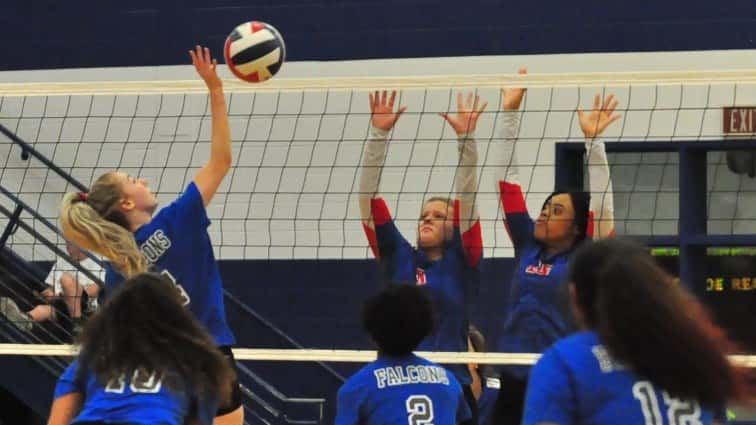 Christian County started slow but finished strong in taking a four-set win over Fort Campbell Tuesday at Christian County Middle School. The change of venue was due to a testing program in Lyle Dunbar Gymnasium.
The Lady Colonels won 19-25, 25-19, 25-20, 25-10. It's the second time this year the Lady Colonels have won a match after dropping the first set.
Fort Campbell used a 5-0 run in the first set to break a 7-7 tie. Christian County battled back to tie the set five times. However, the Lady Falcons scored the final six points of the set for the win. Christian County struggled with an 84-percent service rate in the set compared to 91-percent for Fort Campbell.
The second set was another close one, featuring six ties. Christian County led 14-7, but the Lady Falcons again showed grit to tie the set two more times – the last at 18-18. Lindsie Oden had a pair of kills as Christian County ended the set on a 7-1 run.
Christian County jumped out to an 8-2 lead in the third set only to see Fort Campbell again battle back to tie the match at four different junctures. With the set tied at 20-20, the Lady Colonels ended with a 5-0 run and a 2-1 set advantage.
Christian County won the fourth and deciding set as Macy Baker led the way with four kills and two aces. She finished the match with 19 kills and three aces.
The Lady Colonels led 9-2 early and put the match away with a 9-1 run midway through the set.
Lanie Bivens had five kills, and Oden finished with three. Alyvia Stokes contributed 22 assists.
Jasmin Jones led Fort Campbell with 14 kills and three aces. Faith Kaauamo added five kills, and Pryce O'Connor and Amauri Pratt each had a pair of kills. Abigail Roby had 22 assists.
Fort Campbell drops to 1-9 with the loss and 0-4 in district play. They travel to West Creek Wednesday.
Christian County improves to 6-9 on the season and 1-2 in the district. The Lady Colonels will play at Clarksville Northwest Wednesday.