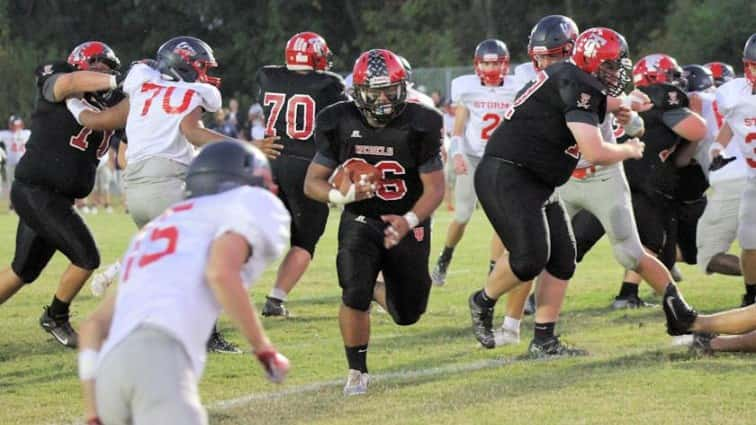 Todd County made the big plays early, established their run game, and held off a huge game from Hopkins County Central quarterback Adrian Stringer to beat the Storm 60-34 Friday at Rebel Stadium. The 60-point outburst was the most a Rebel team had scored since a 59-8 win over Caverna in 2004.
Todd County Central racked up 303 rushing yards with Ja'Twan Graham leading the attack with 71 yards on 10 carries. He found the end zone three times. Jonathon Flores added 45 yards and two touchdowns.
Flores began the scoring for the Rebels with a 3-yard run with 8:32 left in the opening quarter.
The Rebels would go up by two touchdowns 30 seconds later when Stringer fumbled near the end zone. Rebel lineman Hunter Borders picked it up and scored.
The Storm answered with a touchdown to cut the deficit to 13-7 with 7:39 left. Todd pushed it back out to two touchdowns when Kimahri Briggs took the ensuing kickoff back 75 yards for a touchdown.
A Rebel pick by Jamarion Smith set up Todd County's fourth score when Bryce Nolan hit D.J Johnson for a 30-yard touchdown to put the Rebels ahead 28-7.
Todd County led 28-14 at halftime and scored the first touchdown of the third quarter when Graham scored from three yards out.
Graham scored on runs of 15 and four yards to put the Rebels ahead 49-14. Flores scored his second touchdown on a run of one yard, and 11 added the 2-point conversion for a 57-14 Rebel lead after three quarters.
Todd County converted a field goal in the first minute of the fourth quarter to round out the scoring. Stringer hit on a couple of long touchdowns for Hopkins County Central with the game out of hand.
Stringer finished 28-of-46 passing for 436 yards and five touchdowns for the Storm (0-4). Blasin Moore had 12 catches for 237 yards and five scores, while Jaxon Winn added seven catches for 142 yards.
Todd County is off to their second 4-0 start in three seasons and look to make it five for five Friday when they host the purple Colonels of Caverna for homecoming at Rebel Stadium. Caverna is 1-3 after suffering a 48-6 loss to Breckinridge County.