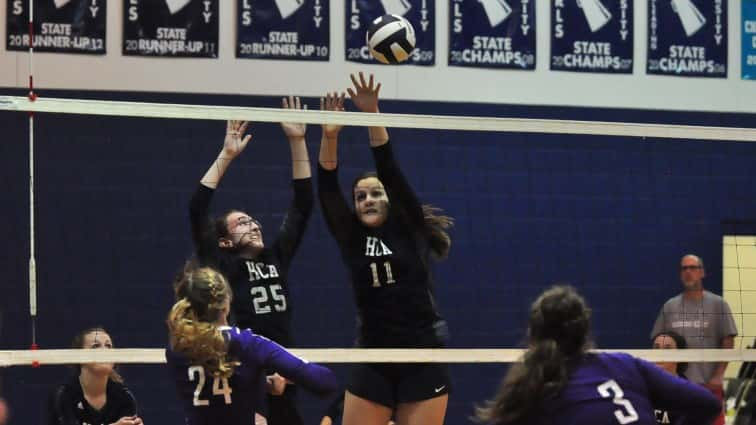 The Heritage Christian Academy volleyball team welcomed Hendersonville Christian Academy, TN and Trinity Christian Academy to Hopkinsville on Saturday, topping the Lady Crusaders 2-0 and falling to the Lady Titans 1-2.  Trinity is ranked 2nd in the KCAA Power Poll, while HCA is right behind in the 4th spot.
The Lady Warriors fell behind 2-3 in the opening set to Hendersonville, before responding with a 16-6 run on the way to a 25-11 win.  The second was tighter, with ties at 15-15 and 23-23, but HCA captured the final two points to take the set and win the match 2-0.
HCA stayed hot in the second match, taking an early 12-11 lead after a block by Elle Heltsley, before stretching the advantage to 15-11 and forcing a Lady Titan timeout.  Trinity responded with a 6-2 run, tying things up and bringing about a Lady Warrior timeout.  Heltsley came up with another big block to once again knot the set at 23-23, and HCA went on to the 25-23 win.
After a strong start, the second set got away from the Lady Warriors, with Trinity racing out to a 14-8 advantage.  HCA called a timeout to stem the tide, but the Lady Titans cruised to a 25-16 win.
It was more of the same in the third set, as Trinity built an early 7-point edge and earned a comfortable 25-14 victory to win the match.