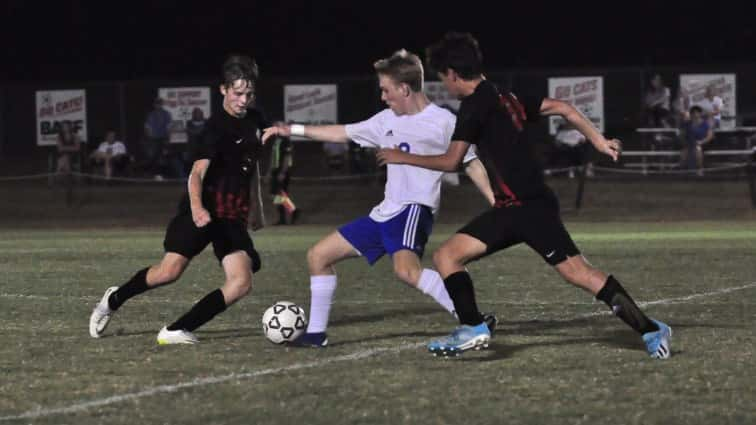 Trigg County scored the final three goals of their soccer contest with St. Mary to beat the Vikings 6-3 Monday and improve their record to 9-1 on the season.
Joey Eggemeyer scored two minutes into the second half to knot the game at 3-3.  Trigg turned up the second half intensity, outshooting the First Region All-A champs 13-2 in the second half. 
Anthony Ethridge, who scored the final goal of the first half on a header off the foot of Clayton Setliff, added his second goal in the 52nd minute off a feed from Will Jolly to break the 3-3 tie.
Jolly pushed through the Viking defense with 15 minutes left and banged home the shot to add a much-needed insurance goal.  Ethridge completed his first career hat trick when he took a feed from Keller Nichols and beat the goalie with just under four minutes remaining.
Trigg County outshot St. Mary 23-8 in the contest.  The Wildcat defense only allowed one shot in the final 38 minutes, and Matthew Smith had four saves in goal.
St. Mary jumped out to a 2-0 lead on goals by Isaac Labarge and Jack Roof.  Trigg's first goal came from Cristian Llarena in the 28th minute when he bended a corner kick through traffic and into the net.
Jolly tied the game three minutes later on a penalty kick following a foul in the goal box.  Ethridge gave Trigg a 3-2 lead at halftime with his header.
Trigg County (9-1) will host Lyon County Tuesday night as they look the clinch the regular season district title.