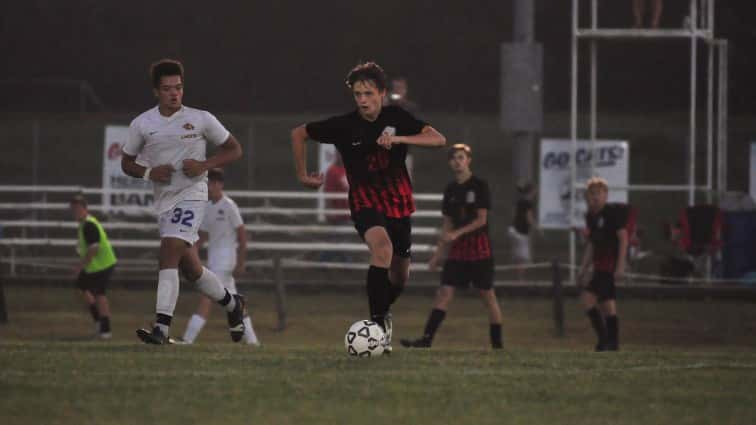 Anthony Ethridge and the Trigg County boys' soccer team remained hot as the junior scored his second consecutive hat trick in the Wildcats' 10-0 win over Lyon County Tuesday at the Complex. Trigg moved to 10-1 with the win.
One night after scoring three goals in Trigg's win over St. Mary, Ethridge added four more as the Wildcats completed the season sweep of their district rivals.
The match was scoreless for the first 22 minutes until Ethridge scored off a pass from Daniel Jimenez in front of the goal. Ethridge added two more goals in the final 11 minutes, one off an assist from Will Jolly, and Jimenez got in on the scoring fun as well to help the Wildcats to a 4-0 lead at the break.
Trigg continued to pile on the goals in the second half. Jolly scored two goals in a one-minute span to put Trigg ahead 6-0. Jimenez added his second goal off a corner kick from Ben Futrell with 16 minutes left for a 7-0 lead.
Jolly completed his hat trick off a pass from Clayton Setliff, with Ethridge and Setliff rounding out the scoring with goals off missed shots.
Trigg County put up 20 shots in each half, while their defense did not allow Lyon County to get off a shot in the contest. Lyon County goalie Cole Schroeder did make 18 saves in goal.
The shutout win was Trigg County's fifth of the season. Their 10-1 start is their best since 2012 when they didn't lose a match until the region championship. Trigg County will play in Madisonville's Donley Classic Saturday against Logan County and Ohio County.
Lyon County fell to 2-10 with their fifth straight loss. The last three have been by shutout. The Lyons will host Mayfield Thursday.