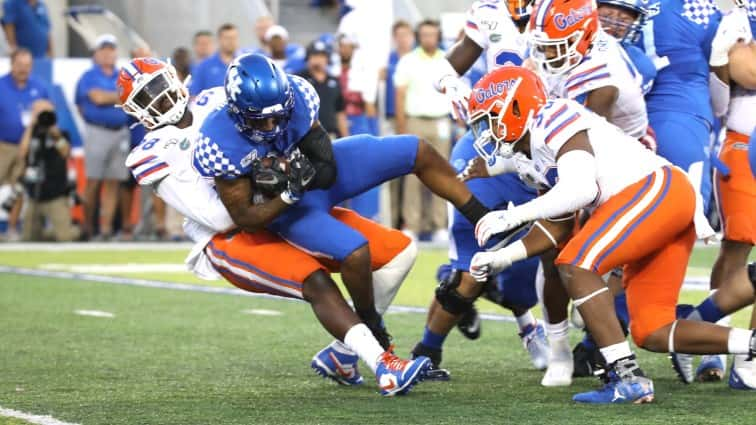 Kentucky fans today are obviously still trying to comprehend how the Cats got outscored 19-0 by No. 9 Florida in the fourth quarter Saturday night and lost 29-21.
It was a game Kentucky could have won so easily — and no matter what anyone thought of two key targeting calls against the Cats, UK did have a 21-10 lead and fourth down and one at the Florida 38 to start the fourth quarter.
Florida coach Dan Mullen reminded everyone after the game that last year the Gators had a fourth-quarter lead before Kentucky rallied to win — the opposite scenario from Saturday night's game. However, Mullen also said other things that UK fans should note.
"Offensively, we killed ourselves with some penalties so that was kind of disappointing. But we found a way to win and we didn't do that last year and that's a big win," Mullen said.
"That's an excellent football team. Hard-pressed to tell me there's 25 better teams in the country than Kentucky. They should be a ranked team.
"Mark's done a great job with the program, I mean look at the talent, the guys they have out there on the field. They're big, they're physical, they play hard, they've got playmakers."
One of the best playmakers was quarterback Sawyer Smith, who was making his first start in place of injured Terry Wilson. He was 23 of 35 passing for 267 yards and two scores but did throw three interceptions, including one on UK's final play of the game.
Kentucky missed a 35-yard field goal that could have won the game and junior running back A.J. Rose, who was stopped on a crucial fourth down play to start the fourth quarter, said it was a "tough" way for the Cats to lose.
"You're up in the fourth quarter and then not walking away with the W, it's pretty hurtful. It comes down to a couple of plays we should've made and some things we have to get better on defense and change and you just have to move on to the next week," Rose said.
Kentucky will play at Mississippi State, which was upset by Kansas State Saturday, this week.
"We just have to come in and watch film on who we have next week, prepare, get a game plan down, and just go into that game and take what we have from this game and come out with a W. We can't go backwards; everything is about going forward," Rose said.
He says younger teammates have to understand the loss was just one game, not a season.
"You win some, and you lose some. You can't win every game and even though it was a tough loss and we should've won the game, things happen, and things don't always go your way," Rose said.