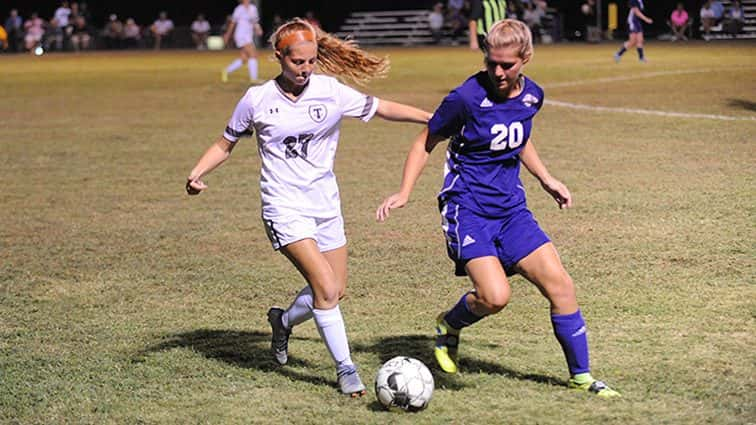 Trigg County has punched its ticket to the 2nd Region girls' soccer tournament by claiming the No. 1 seed in the 5th District.
The Lady Wildcats had to work overtime — and then some — to finally outlast Lyon County Monday night.
It wasn't until after 10 minutes of overtime and two extra rounds of penalty kicks that Trigg earned a 4-3 win over Lyon in a shootout in Eddyville.
Trigg topped Lyon 2-1 earlier this season at the Trigg Recreation Complex.
DeDe Barbee sent home the game-winner for the Lady Wildcats after each team finished five PKs deadlocked at 3-3.
Both sides missed in the first round of sudden-death kicks. But after Lyon's next attempt went high, Barbee buried her shot to to give the Lady Wildcats the season sweep over the Lady Lyons.
Trigg (7-7 overall, 3-0 district) got off to a great start in the contest.
Three goals over a 7-minute stretch midway through the first half staked the Lady Wildcats to a 3-0 lead.
Ashlee Wyatt scored with help from Barbee in the 18th minute for the first goal of the night.
Wyatt got her second tally minutes later to make it 2-0.
Barbee scored a goal of her own in the 24th minute to extend Trigg's margin to 3-0.
Lyon (6-9, 2-2) got some momentum back in the 25th minute when Rose Smith scored from in front of the net.
The Lady Lyons made it a 3-2 game when Sydney Hoffman scored inside the final 2 minutes of the first half to make it a one-goal contest at the break.
Smith struck again in the 46th minute to tie things, and the squads battled through the rest of regulation play even.
The score was still tied 3-3 after two 5-minute overtime periods.
In the shootout, Lyon's Crista Cummins, MaKenzie Lewis and Smith each converted their shots.
For Trigg, Kara Southwood, Avery Harper and Mackenzie Young each made their PKs. Young's kick tied the shootout at 3-3 through five kicks after Smith had given Lyon a 3-2 edge in front of her.
Neither side could convert in the next round after the shootout went to sudden death. Lyon missed its final two attempts high before Barbee nailed the game-winner for the Lady Wildcats.
Mary Davis added an assist in the contest for Lyon.
Abby Smith made 10 saves in the Lyon net.
Trigg plays its final regular-seaon district game on Tuesday when it hosts Crittenden County (0-13).
Next up for Lyon is a home date against Paducah Tilghman on Tuesday.