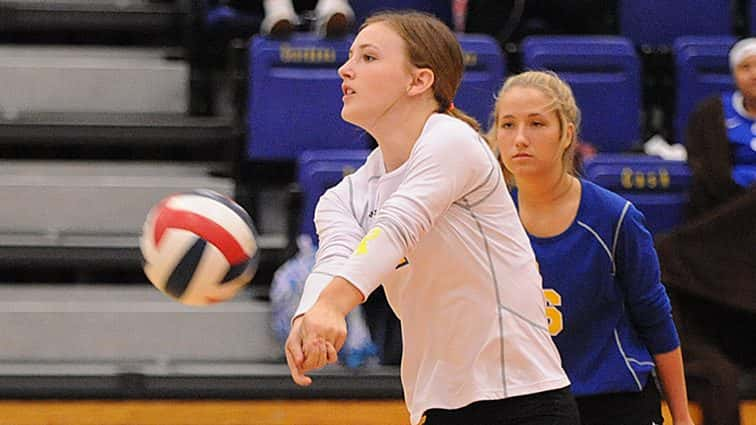 The Caldwell County Lady Tiger volleyball team, rated tops in the 2nd Region, had a tough weekend against a stiff field at the Kentucky Challenge, hosted by Paul Laurence Dunbar in Lexington.
The Lady Tigers opened play Friday night with setbacks to Lexington Tates Creek, which is ranked 10th in Kentucky, and Portland, which is the two-time defending Class 2A state champion in Tennessee.
Tates Creek (16-2) dealt Caldwell a 25-8, 25-18 setback while Portland (33-9) won 25-15 25-20.
On Saturday, Caldwell fell to Southwestern (14-5), which is located in Somerset. Those scores were 25-19, 25-16.
Olivia Mitchell had 13 kills and Savanna Tays recorded 16 set assists.
The Lady Tigers then picked up a win over West Carter (18-8), rallying from a first-set loss to take an 11-25, 25-19, 25-15 decision.
Abby Griggs had 12 kills in that match while Mitchell tallied 11 kills. Tays had 22 assists.
Adi Sullenger and Mitchell each had 12 digs. Kendyll Prowell added 11 digs.
Caldwell went three sets with Washington County (14-10), but dropped a close 25-15, 22-25, 25-23 setback.
Mitchell recorded 14 kills and 13 digs against Washington. Griggs had 10 kills.
Tays had 18 services. Sullenger added 26 digs.
Caldwell finished the event 1-4 and is now 16-10.
The Lady Tigers will head to Hopkins County Central on Tuesday for a 7th District matchup before hosting three-time defending 2nd Region champion Henderson County on Thursday.