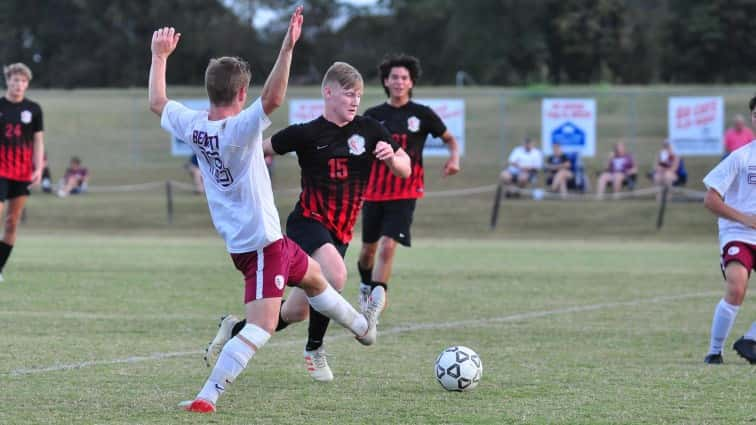 Despite playing short-handed, Trigg County went toe-to-toe with the region's top soccer team before falling 5-2 to Henderson County Saturday evening at the Complex.
Trigg was without two starters, including their leading scorer, and Coach Josh Nichols, who was sitting out a red card penalty given earlier this week at Caldwell County.
Despite the obstacles, they allowed just one goal to Henderson County – a Trevor Book score in the 29th minute.
The Wildcats evened the game five minutes into the second half when a foul in the goal box awarded them a penalty kick. Keller Nichols banged home the freebie to knot the game at 1-1.
Henderson regained the advantage in the 54th minute when Ashton Todd scored off a corner kick. But the lead was short-lived as Daniel Jimenez fed Clayton Setliff with a pass a minute later, and Setliff beat a charging goalie to even the score at 2-2.
The Colonels took the lead for good with 15 minutes left on a Payton Peckenpaugh goal on the right side of the box.
Trigg County wasn't able to generate any scoring opportunities after the Setliff goal, getting outshot 11-3 in the second half.
Henderson piled on the insurance in the final two minutes on goals by Jordan Toribio and Adam Gillham.  Matthew Smith had eight saves in goal for the Wildcats.
The Colonels and Wildcats were the final two teams without a loss in region play. Henderson County improves to 13-2-2 overall and 6-0-1 in region play. Their tie came against Madisonville.
Trigg County drops to 12-2-2 and 7-1-1 in the region. The Wildcats will host Hopkinsville Wednesday in their final home game of the season. The game was moved from Tuesday to Wednesday to help with the soccer referee shortage in the region.