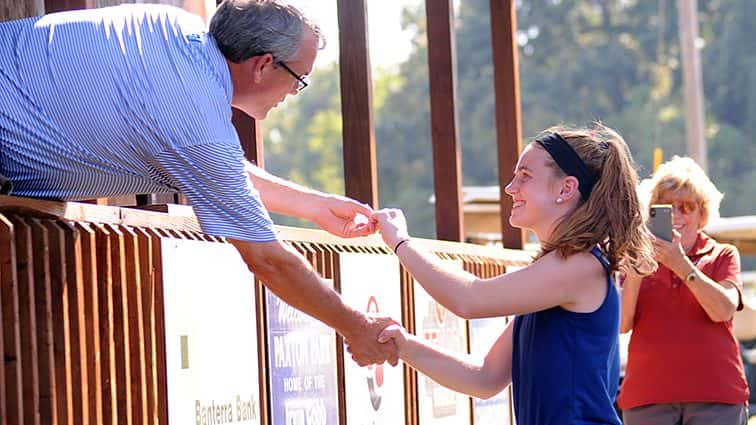 Lyon County's Cathryn Brown and Crittenden County's Lauren Gilchrist will both play in the KHSAA state tournament next week at Bowling Green Country Club.
Gilchrist, a senior, fired a 3-over-par 74 to place third in the girls' 1st Region tournament Monday at Paxton Park Golf Course in Paducah. She shot a 35 on the front nine and a 39 on the back.
Brown and Ellie Roof of Paducah St. Mary claimed the last two spots at state by tying for eighth place in the regional with 11-over 82s. Brown, a freshman, carded a 37 on the front but struggled just slightly on the back nine, shooting a 45 on that side.
Margaret Butts of St. Mary, a senior, was medalist with an even-par 71. That was one shot better than McCracken County senior Jessica Stephens.
Marshall County claimed the team championship trophy on Monday with a 325. Murray was runner-up at 336.
The boys' 1st Region tournament is Tuesday at Calvert City Country Club.
Individual scores
Margaret Butts (Paducah St. Mary) 71
Jessica Stephens (McCracken County) 72
Lauren Gilchrist (Crittenden County) 74
Savannah Howell (Marshall County) 76
Ellie West (Graves County) 78
Megan Hertter (Marshall County) 81
Mary B. Howell (Murray) 81
Cathryn Brown (Lyon County) 82
Ellie Roof (Paducah St. Mary) 82
Kenley Luksic (Marshall County) 83
Autumn Dowdy (Ballard Memorial) 84
Sarah Umbarger (Marshall County) 85
Rachel Hagan (McCracken County) 86
Adeline Edwards (McCracken County) 86
Claire Whitaker (Murray) 87
Claire Knoth (Caldwell County) 88
Mia Miles (Calloway County) 88
Skylar Waller (Calloway County) 88
Elsie Riley (Marshall County) 88
Katherine Oliver (McCracken County) 92
Macy Saylor (Murray) 93
Sarah Lyell (Graves County) 95
Carsyn Jones (Livingston Central) 96
Macy Rodgers (Graves County) 97
Reagan Farmer (McCracken County) 97
Abernathy (Hickman County) 97
Caroline Kim (Murray) 104
Kennedy Croft (Livingston Central) 112
Javen Campbell (Calloway County) 113
Brylee Conyer (Crittenden County) 118
Addie Sullivan (Graves County) 120
Ryleigh Smithson (Graves County) 121
Jansyn Hays (Murray) 145
Addie Hatfield (Crittenden County) 146
Gracie Lusk (Hickman County) WD