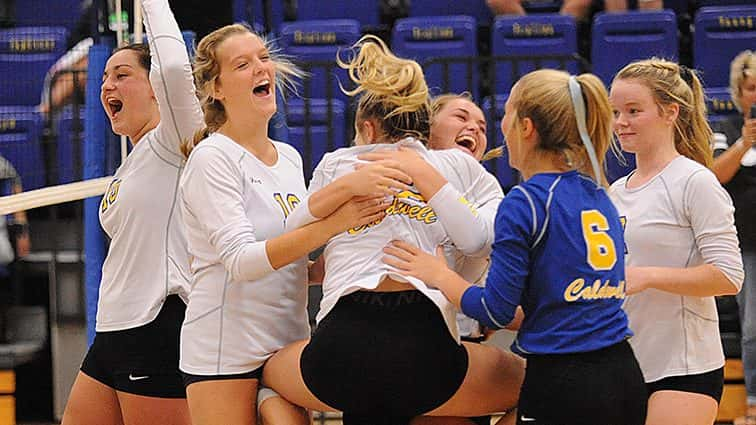 Caldwell County solidified its favorite's role in 2nd Region volleyball on Thursday.
The Lady Tigers took down three-time defending 2nd Region champion Henderson County 3-1 Thursday night at the CAB gym in Princeton in a potential preview of this year's regional championship match.
Olivia Mitchell had 20 kills, 11 digs and two aces for Caldwell, which improved to 18-10 with a 25-19, 21-25, 25-20, 25-16 victory over the Lady Colonels.
The Lady Tigers now own wins over both Henderson and University Heights, which figure to be Caldwell's two biggest challengers in the region.
Caldwell, ranked No. 1 in the 2nd Region, also got 11 kills and three blocks from Abby Griggs in the win over Henderson.
Mary Tays had seven kills and seven digs.
Savanna Tays, who recently passed 2,000 career set assists and is closing in on Katie VanHooser's school record of 2,073, had 34 set assists in the win over Henderson. She also had a kill, five digs and four aces.
Kendyll Prowell tallied six kills, nine digs and 12 set assists. Adi Sullenger added seven digs while Addi Perkins had a kill and six digs.
Caldwell pulled away midway through the first set to grab the early lead in the match. The Lady Tigers then seemed to gain all of the momentum when they bolted to a 15-7 lead in the second set.
However, Henderson (18-8) ran off nine straight points to turn things around and went on to win the second set.
But Caldwell settled down in the third set to regain the upper hand, then was able to finish off the match in the fourth set.
Henderson took the JV match 21-18, 21-18.
Caldwell got four kills and five digs from Mary Tays, four kills and three aces from Savannah Scott and nine set assists and eight digs from Adi Sullenger in the junior varsity contest.
The Lady Tigers play again on Tuesday when they visit 7th District rival Madisonville-North Hopkins.