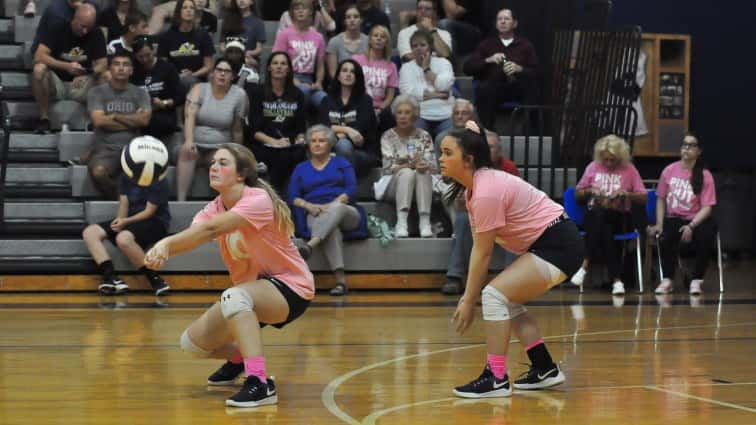 Heritage Christian Academy's volleyball team ran their winning streak to five games with a 25-19, 25-18 win over Highlands Latin Saturday at Warrior Gym.
HCA came into the contest ranked No. 5 in the Kentucky Christian Athletic Association Power Poll, while Highlands Latin is ranked No. 10.
HCA broke open close game in the first set with a 5-1 run behind kills from Allie Schluckebier and Emma Kirkman. Highlands Latin rallied to tie the set at 12, 13, and 17.
Schluckebier had three straight kills to help the Lady Warriors move out to a 21-17 lead. Lexie Crisp had two kills as HCA closed out the set.
In addition to Schluckebier's four kills and block in the set, Elle Heltsley added two aces and a kill.
In the second set, the teams were tied four times until HCA used a 6-0 run to take control. The Highlanders would get to within 18-14 but no closer.
Crisp had two kills and an ace in the set, while Meredith Crunk had two aces and two kills. Kirkman had 14 assists in the match.
On Friday, HCA traveled to Tennessee and picked up a 25-12, 25-21, 25-18 win over Hendersonville Christian.
Crunk and Heltsley each had two aces and two kills in the first set, while Crisp and Elizabeth Pitts each had two kills.
In the second set, HCA was led by Heltsley's two aces and two kills. Schluckebier had two kills, and Kirkman had two aces and seven assists.
Alie Boyd had three kills in the third set, with Olivia Cornelius adding two kills and Tori Sutton chipping in with three aces. Bailey Craft added seven assists.
Heritage Christian improved to 17-13 on the season. They have three regular season matches left before the region tournament Oct. 15.