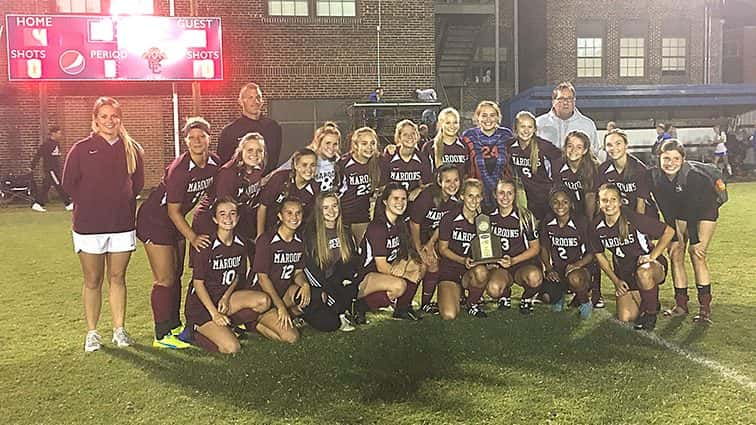 Caldwell County made Madisonville-North Hopkins work for it, but the Lady Maroons claimed the 7th District championship for the second straight year.
Sophomore Camryn LaGrange had a hat trick as Madisonville pulled away for a 4-1 victory in the district title tilt Tuesday at Butler Stadium in Princeton.
But it was Caldwell (12-7-2) that got on the scoreboard first. A long shot over the goalkeeper by Kendall Boyd in the 26th minute gave the Lady Tigers some hope and a 1-0 lead.
Caldwell had lost 6-0 at Madisonville during the regular season.
However, a pair of quick strikes late in the half allowed the Lady Maroons (18-1-1) to get to the break with a 2-1 lead.
LaGrange scored in front off a Lillie Carman corner kick in the 34th minute to tie the game.
LaGrange struck again just 2 minutes later, this time taking a pass from Kylee Coyle in front of and putting home a shot to push Madisonville in front.
It remained a one-goal match until the 77th minute. LaGrange put the game away for the Lady Maroons on a header with Carman picking up the assist.
Madisonville added another goal in the 79th minute when Emma Peyton scored off Carman's third helper of the night.
Madisonville outshot Caldwell 26-12 in the contest.
Caldwell keeper Karsyn Parker made 16 saves to help keep the Lady Tigers in the game.
Kara Franklin had four saves for Madisonville.
Both the Lady Maroons and Lady Tigers advance to the 2nd Region tournament next week at the Stadium of Champions in Hopkinsville. The draw for the regional soccer tourneys is Thursday morning in Madisonville.