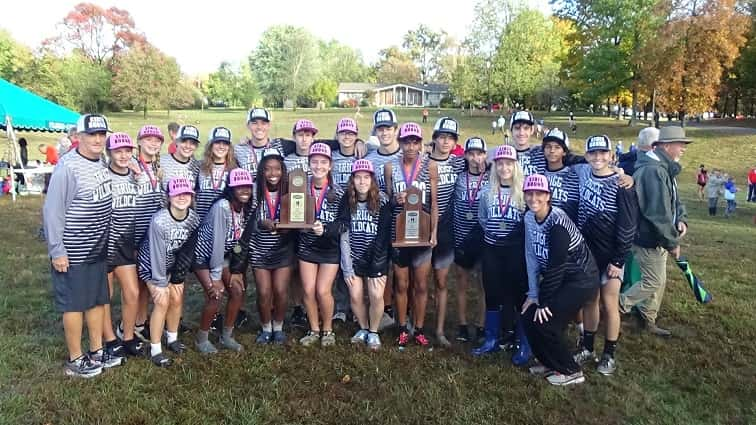 On what was sometimes a miserable day weather-wise at the Region 1 AA meet at Marshall County High School, the Trigg County boys and girls cross-country teams excelled in the sloppy conditions, with both punching their tickets to next weekend's state meet.
Freshman Austin Cavanaugh paced the boys' runner-up showing with a second-place finish (17:37.81), while the girls used four top-10 runs to claim the region title.
For the boys, 8th-grader Riley Thompson finished 10th with a 18:57.57, followed by senior Apolo Black Bear-Francis in 15th at 19:25.45.  Senior All-Region soccer player and state runner-up wrestler Colin Stevens was 16th with a 19:30.22, followed in 17th by sophomore Marshall Jenkins (19:35.40).  Senior Alex Skinner posted a 21st place finish at 19:55.15.
The Trigg boys totalled 57 points, second to a dominant Webster County's 21.  The Trojans took four of the top five spots, including junior Ryan Roland's 1st-place showing (17:18.87).
The girls used a balanced effort, led by freshman Trinity Cavanaugh's 22:57.53, good enough for 5th.  7th-grader Reese Bush posted a 23:07.70 in 7th-place, with 8th-grader Riley Brame (23:14.54) and junior DeDe Barbee (23:19.78) close on her heels in 8th and 9th, respectively.  Senior Grace Hill (23:50.78) was 12th, followed by seniors Lexi Ricks (24:16.08) in 14th and Livi Ricks (25:17.33) in 18th.
The girls' 36 points just edged-out 2nd-place Calloway County's 38, while their average time was 6 seconds quicker than the Lakers' 23:24.