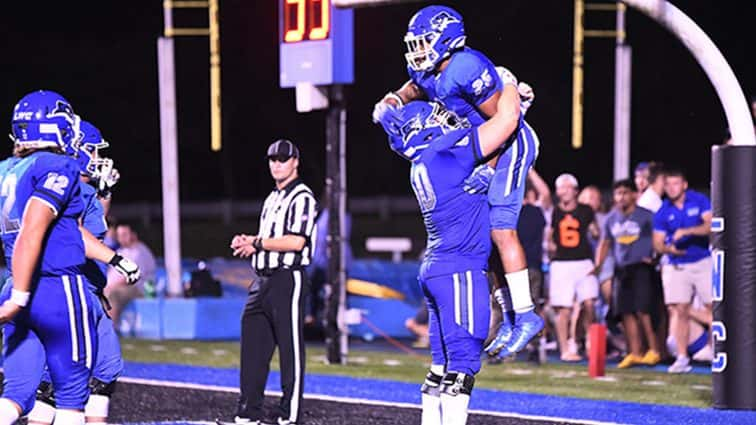 Former Caldwell County standout Jaylen Boyd ran for a career-high 130 yards and four touchdowns as Lindsey Wilson put up a season-high 531 yards of total offense in a 45-10 win at Pikeville Saturday night.
The No. 8-ranked Blue Raiders head into an off week next week with an 8-0 overall record, including 5-0 in the Mid-South Conference Bluegrass Division. Pikeville — which is receiving votes in the national poll — slips to 3-4 overall and 2-2 in the Bluegrass.
Leading 24-10 at the half, the Blue Raiders dominated the third quarter, outscoring their hosts 21-0 to take a 45-10 lead into the fourth quarter. Lindsey Wilson outgained the Bears 231-79 in the third frame and coasted to the 35-point win.
Boyd scored three times in the decisive third quarter — from 35, one and 28 yards out — while racking up 86 yards on six carries in the frame.
Lindsey Wilson — which put together a pair of 11-play scoring drives in the first quarter — took a 10-0 lead just before the end of the first. Boyd scampered in from the six-yard line to cap the 11-play, 84-yard drive for his first score of the night. Boyd has eight rushing touchdowns this season and 12 total scores following Saturday's effort.
Boyd rushed for 5,451 yards and 78 touchdowns as a Caldwell County Tiger from 2011-14. Both of those numbers are second on the Caldwell's all-time list.
Lindsey Wilson returns to action at 1:30 p.m. Central time on Saturday, Nov. 9, as the Blue Raiders host Georgetown (Ky.) on Senior Day at Blue Raider Stadium.
(Information from Lindsey Wilson Athletics was used in this story.)