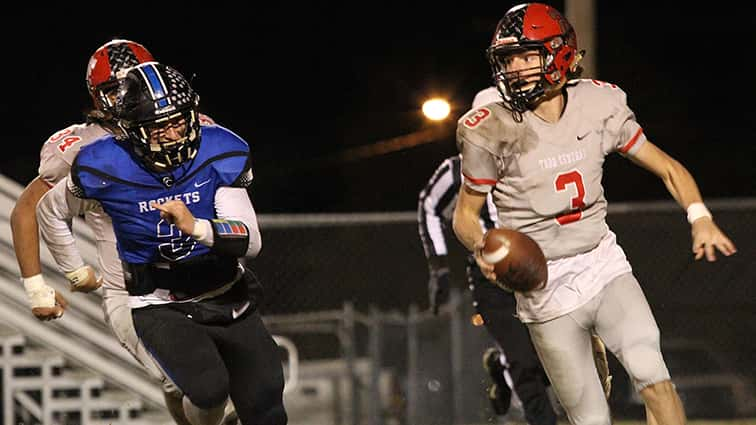 Todd County Central finished up a 6-4 regular season with a 49-22 setback at Crittenden County on Friday.
The Rebels had difficulty getting their running attack going in the first half as the host Rockets ran out to a 21-0 lead on the way to a 35-6 advantage at halftime.
Todd outscored its hosts 16-14 in the second half, but couldn't make up much ground after falling behind in the first 24 minutes.
D.J. Johnson scored Todd's only points of the first half for the Rebels on a 39-yard pass from Bryce Nolan.
Nolan hit Preston Moore with a 12-yard scoring toss in the third quarter and connected with JaTwan Graham on a 14-yarder late in the game.
Graham was limited to just 43 yards rushing in the contest for Todd, which finished with 118 yards on the ground.
Graham added five receptions for 71 yards.
Nolan completed 10 of 23 passes for 151 yards and the three TDs while being picked off once.
Meanwhile, Crittenden rolled up 284 yards on the ground behind a 129-yard effort from
Xander Tabor. Tabor ran for two touchdowns and returned an interception 42 yards for a score.
Caden McCalister rushed for 63 yards and a TD for the Rockets as well. Preston Turley caught a scoring pass from Luke Crider and Hunter Jones rushed for an 11-yard TD.
Crider was 9 of 12 passing for 99 yards.
Crittenden had 410 total yards while Todd had 269.
The Rebels will open the Class 2A playoffs next week with a trip to Owensboro Catholic.
Crittenden, now 8-2, will host Caverna when the 2A postseason begins.
(Photos and game information courtesy of The Crittenden Press.)