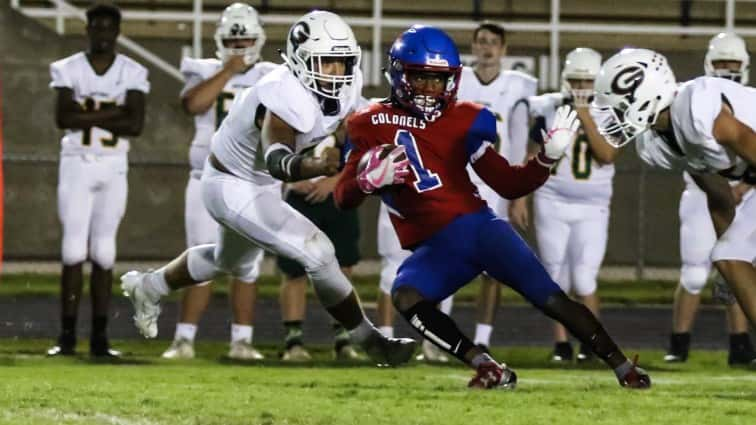 Christian County knows the cards are not stacked in their favor when the Class 5A football playoffs begin Friday.
The Colonels (0-10) are trying to avoid the program's first winless season since 1971 and just the third ever. They are the No. 4 seed in District 2 and will play at state-ranked and No. 1 seed Bowling Green Friday.
Christian County wasn't done any favors before the season when realignment moved them from District 1, where they likely would have been a three seed at worse and possibly a two seed, into District 2 with the Bowling Green schools, two of which are top 10 mainstays in the Class 5A rankings.
Regardless of the obstacles facing the Colonels, Steve Lovelace's squad is coming off a 19-14 loss at McCracken County in the regular season finale that saw two of their scores called back on penalties.
Mistakes have been a problem for the Colonels. They were penalized 19 times for 155 yards in the loss to McCracken last week. For the season, they have turned the football over 18 times and have a turnover ratio of -9.
They will need to play mistake free football Friday against the Purples, who enter the postseason with a record of 7-3. Their losses are to Class 6A powers St. Xavier and Trinity and to Nashville private school juggernaut Father Ryan.
The Purples beat Christian County 49-0 on Oct. 18, taking advantage of five Colonel turnovers and holding them to -7 yards rushing.
Bowling Green doesn't have flashy offensive numbers. Three different quarterbacks have combine to average 185 passing yards a game, and the Purples average just 136 rushing yards a game.
The Purples inflict their damage on defense, giving up just 11.8 points and 224 yards a game. They have won four of their seven games by shutout.
The KHSAA has created a Ratings Percentage Index (RPI) for the first time this year. Bowling Green checks in at No. 13 in Class 5A (.553), while Christian County is No. 36 (.377). However, no team in Class 5A has played a tougher schedule than the Colonels, whose opponent winning percentage is .658. Bowling Green's schedule ranks No. 28 (.451).
Christian County has not lost three straight playoff games since 1992-2001 when they dropped seven straight. The Colonels and Purples have met seven times in the postseason with Bowling Green winning six – all in the last decade. The Colonel's lone postseason win against the Purples came in 2010. Bowling Green won last year's first round game 29-7.
Christian County is making their 35th playoff appearance. They are 36-32 all-time.
Bowling Green is making their 36th playoff appearance. They have a career postseason record of 80-29.