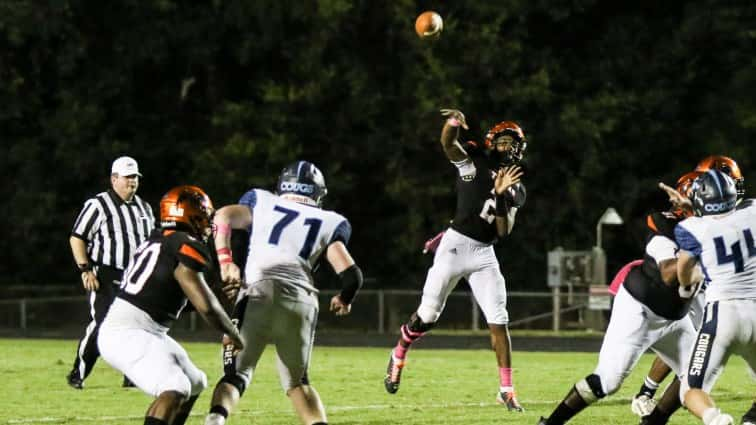 After two seasons of having the breaks go against them, Hopkinsville didn't mind having a few go in their favor last week.
The Tigers edged both Logan County and Madisonville in the tie-breaker to determine the district champion thanks to their 17-15 win over Paducah Tilghman last week.  Both Logan and Madisonville lost which ensured Hoptown getting the No. 1 seed and home field in the first two rounds of the playoffs.
The Tigers (7-3) will host Calloway County (1-9) in the first round of the Class 4A playoffs Friday at the Stadium of Champions.  Hoptown has assured themselves of a winning record for the first time since Craig Clayton returned to the Tiger sidelines in 2017.  However, they want more this season after seeing season-ending injuries to key players in 2017 and 2018 hamper their postseason success.
Quarterback Jay Bland is one of those players, missing the second half of the 2018 season with a knee injury.  He has returned to throw for 1,965 yards and 26 touchdowns against just nine interceptions.
His main target is junior Reece Jesse, who has 57 catches for 1,071 yards and 14 touchdowns.  He is closing in on the single season record for all three categories and could eclipse them Friday night.
Hoptown's success this season has been on the shoulders of their defense that is giving up just 15 points and 82 rushing yards a game.  Last year, they allowed 21 points and 115 rushing yards a game.
In their 43-0 win over Calloway County on Sept. 17, Hoptown held the Lakers to 23 rushing yards and 119 total yards in dominating the contest.  Three different Tigers rushed for touchdowns as Hoptown played on a short field for most of the contest.
Hoptown simply needs to execute early and stay healthy in order to advance to the second round where they would host the winner of Logan County and Madisonville's first round game.
Hopkinsville and Calloway County have met three times in the playoffs, with the Tigers winning all three.  The last time they met was a 19-17 Tiger win in 1997.
Calloway County making their 22nd playoff appearance.  They are 8-21 in the postseason and have lost 10 straight playoff games dating back to 2008 when they advanced to the 4A semifinals.
Hopkinsville is making their 34th playoff appearance.  They are 47-31 all-time in the postseason and looking for their sixth straight first round win.