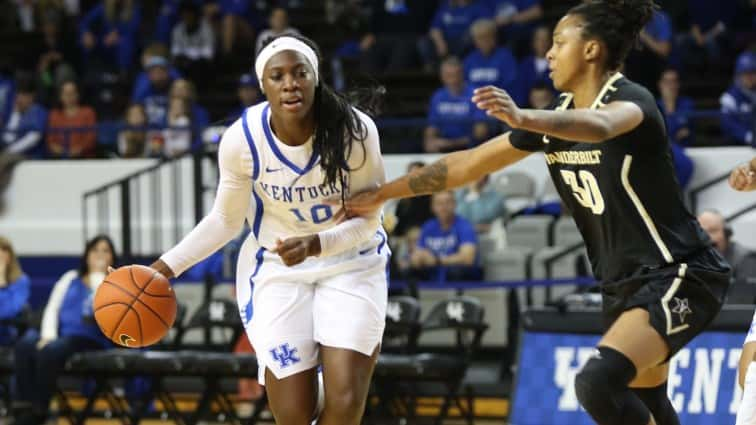 Just how good is Kentucky sophomore Rhyne Howard, the consensus national freshman of the year last season?
"Rhyne is the best player I have ever seen," Kentucky sophomore Blair Green said. "She is going to be a phenom. Just playing with her and learning from her is amazing. I know she is going to do even more amazing things this year."
Howard became just the second freshman at UK to lead the team in scoring (16.4 points per game) and rebounding (6.6 per game) last year. She's been named to the preseason all-Southeastern Conference team as well as one of 20 players on the Cheryl Miller Award watch list for the award given to the nation's best small forward.
Freshman teammate Emma King isn't sure she has ever scored against Howard since arriving on campus in June.
"She does score on me, though. She can do everything," King said. "I told Rhyne that 'anything I can do, you can do better.' It just happens over and over again.
"Ever time I tell her she says, 'You said it, not me.' But it is the truth and happens over and over again. If we are shooting and I make seven, she is going to make eight. That's just how it goes. Just glad she is on my team."
Kentucky coach Matthew Mitchell certainly understands that feeling. However, he's also encouraging her to help provide the leadership lost by the departure of Maci Morris and Taylor Murray from last year's team.
"I am going to try and be more vocal but it probably will be more by example. When I do speak, though, my teammates do listen," Howard said.
They should and opposing teams definitely will. Mitchell expects Howard to "clearly be the focus" of opposing teams all season.
"The trouble people will have is that she is so versatile. And a lot of times you know when you're thinking of maybe shutting down the scorer, there may be a great post player who they're going to run double teams at, or there may be a great shooter that people are going to try to face guard or deny and take the ball from," Mitchell said.
"She just can influence the game in really every area, she just doesn't have many weaknesses. Great ball handler, big, strong, athletic, so I think if you try to face guard her she's athletic enough that we can find a way to get her the ball and then, she is just one of the best passers on the team, one of the best shooters on the team and, and then can really make an impact on the boards and defensively."
Mitchell isn't downplaying what Howard will face this year from teams trying to keep her from scoring. He doesn't want her to try to do more than she can, though, with her natural skills.
"What we've stressed with her is showing up as the best Rhyne Howard she can be and everything else will take care of itself so she, I think has done a good job with that. I do think that early on, maybe there was some pressure on her. I've told her, if she'll come to work every day, just practice really hard, stay in the gym and make sure she sharp and prepared, I think it's the other teams that have something to worry about ," Mitchell said.
"She's just that, that versatile and gifted and talented and tremendously competitive, wants to win badly, but we'll just have to work our way through all those challenges that the opponent sends our way and I think she'll be equipped to handle him."
Mitchell admitted Howard had a "security blanket" last year with Morris and Murray not only being the team leaders but players who welcomed the pressure of big games/moments.
"She wasn't under the radar because she ended up being our leading scorer and rebounder," Mitchell said. "Now we just talked about her understanding that when you are the kind of player that she is, some people are looking at you and there's some responsibility there to carry yourself in the right way. And she has no trouble carrying herself with great class and kindness to her teammates and so that that's really good."
However, she has to be ready to go all-out from the start of every game like Morris and Murray did. No waiting to settle into the game or see how the game flows. Mitchell wants her to dictate how the game flows.
"What I want her to do is show up from the tip with a very competitive streak about her that you know that I need to do certain things on the floor and I can't wait till I kind of fill out the game," Mitchell said. "I've always thought she was sort of, 'Let's see what's going on and what's required tonight and then I'll give it to you.'"
Howard worked during the offseason to finish at the basket better than she did last year.
"Finishing around the rim and through contact is something I have really worked on. I know it is going to be a lot more physical, so I am getting stronger so I don't get knocked down as much," Howard said. "I know teams are coming after me. I am ready for it. I know that if everyone is paying attention to me that my teammates will be open and they will be able to get open shots or get to the basket and get to the free throw line."
There's one more big plus about Howard — as King certainly understands. Mitchell says she can be an elite defender. He wants her to understand how "special" she can be defensively.
"Great athlete, big, strong tough, quick, fast, you know all those things that matter in basketball so I've been real pleased with that, too," Howard said. "You know sometimes you see offensive players that think I've got to score so I'm going to save it on the defensive end but she's been really good on the defensive end, too."