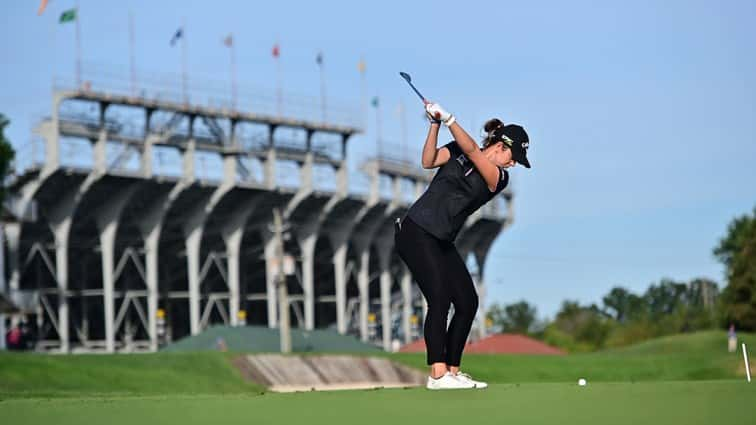 For Emma Talley, the 2019 LPGA Tour season was not exactly what she envisioned. In fact, she called it a "very stressful year" that resulted in her finishing 103rd on the money list and having to go to Q School to retain her 2020 tour playing card.
"It was just a relief that I made it," Talley, a three-time Kentucky high school champion for Caldwell County, said after finishing sixth in the 144-hole Q School. "I worked really hard going into it and felt good about my game. Overall, this was the hardest yer of my golf career. I am really excited about next year and right now I am just enjoying some time off."
Talley now realizes she had led a charmed life in her golf career. She played on the U.S. Curtis Cup, Junior Solheim and Junior Ryder Cup teams. She won the 2013 U.S. Women's Amateur and was an All-American at Alabama who won an individual national championship. It took her just one year after college to earn her LPGA Tour card for 2018. She had two top five finishes her rookie year that had many labeling her as the next U.S. star after her rookie season.
Talley, the only Kentuckian on the LPGA Tour, was 115th in driving distance, 68th in greens in regulation, 124th in putting average, 156th in sand save, 94th in scoring average and 116th in rounds under par on tour this season. Her best statistic was 22nd in driving accuracy.
Give Talley credit for her honesty. She admits 2018 was "easy" and she thought it was the start of a productive LPGA career. She can now admit she probably needed the struggles she went through this year to push her to a higher level with her golf game going forward.
"I really didn't know how to deal with failure. Everything in my life was affected by my golf," she said. "I struggled a little bit my sophomore year in college after I won the U.S. Amateur but it was not that bad. This was the first year I really struggled. I am thankful in some ways it worked out like it did.
"I learned a lot this year, probably more than I have in my whole golfing career. I am so thankful for the people around me. I started working with a new coach and I just really believe everything that happened this year was just to make me better."
Talley made changes in her putting and chipping at the end of the 2018 season that she said were "good changes." Now that same coach, Gareth Raflewski, is working with her on her overall swing like he does several other successful LPGA players.
"I regret a lot of my decisions this year. I finished 10th at Toledo and the next week changed my driver. I did a lot of things like that during the year I regret. I am just super thankful for everything I did learn," Talley said.
She started writing down more things to remember this season after being told it sometimes takes four or five years to get "comfortable" on tour. She learned about travel in 2018 and this year learned more about her golf game.
"I learned when to take off. This year I tried to play through bad times and wish I had taken time off," Talley, who ranked 37th in total events played in 2019, said. "It's all a huge learning curve and I am super thankful for what I learned and everyone who helped me this year.
"My parents are wonderful. I would not be where I am now without my dad. He was always out on the golf course with me. He might get anxious at times about my play but it's only because he cares. He just reminded me this year that this is a process and was just one part of the journey. He reminded me most setbacks come with big rewards.
"My dad told me if I have a 10-year career on the LPGA Tour, not every year will be a good year. I just have to take the punches and go. I can't get too down or too high . It's a long season out here and I don't think I really realized until this year just how tough it is."
Her faith helped get her through the ups and downs of a difficult season. One of her favorite Bible verses is Jeremiah 29:11: "For I know the plans I have for you, declares the Lord, plans to prosper you and not to harm you, plans to give you hope and a future."
Talley, a devout Christian, relied on that verse often this season.
"My hope is in Christ and I try to walk each day to honor and glorify him," Talley said. "Some days this year I did not do a good job of that on the course. Golf is my job but it is not my identity. I have a great family and friends. There's much more to life than golf and that might be the biggest thing I learned this year."