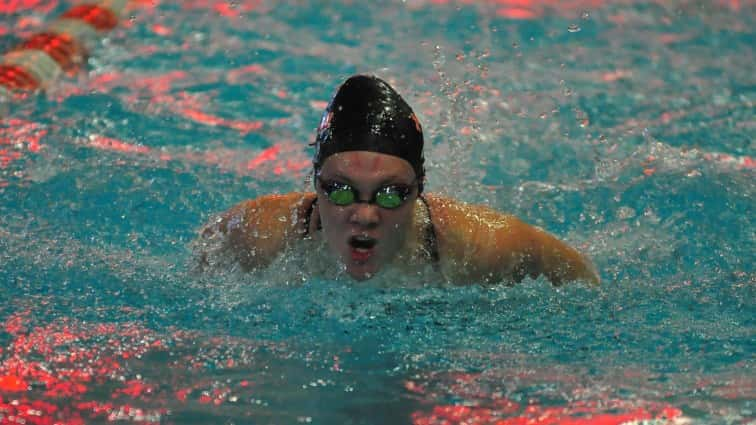 Hopkinsville High brought home fifth place in the combined competition at the annual Rick Cohn Tiger Invitational held at the aquatic center named in honor of the late Hopkinsville swim coach.
Hoptown totaled 21 points on the day. Bowling Green (81) took first with South Warren (59) second. Murray had the best score of Region I schools with 57 points. Defending region champion Madisonville was sixth with nine points.
Hopkinsville got 15 points from their female swimmers and six points from the guys.
Ella Falco and Lauren Langhi each had a pair of individual top five finishes on the day and added a pair of top fives in the relays.
Lauren Montgomery and Elizabeth Langhi also had individual top five finishes for the Lady Tigers.
For the guys, Bryce Robinson and Chase Atkins each had individual and relay top five finishes for the Tigers.
GIRLS
Ella Falco 1st in the 200 free (2:01.55); 5th in the 100 fly (1:04.23)
Lauren Langhi 2nd in the 200 IM (2:26.13); 4th in the 100 breaststroke (1:16.54)
Lauren Montgomery 5th in the 200 free (2:11.41); 8th in the 50 free (27.36)
Elizabeth Langhi 5th in the 200 IM (2:29.88); 6th in the 100 backstroke (1:09.86)
Riley Robinson 7th in the 100 breaststroke (1:20.57); 8th in the 200 IM (2:37.91)
Ellie Colburn 10th in the 50 free (27.65); 38th in the 100 free (1:19.96)
Madyson Hallmark 10th in the 500 free (6:58.22); 17th in the 200 free (2:32.11)
Megan Grace 14th in the 200 free (2:30.19); 16th in the 100 backstroke (1:17.02)
Addisyn Grise 14th in the 500 free (7:06.12); 25th in the 50 free (31.04)
Ashton Grace 20th in the 100 breaststroke (1:32.73); 54th in the 50 free (35.24)
Livie Jorgensen 28th in the 100 breaststroke (1:39.53); 29th in the 50 free (31.59)
Caroline Payne 27th in the 100 free (1:14.38); 39th in the 50 free (32.76)
Eliza Renshaw 23rd in the 100 fly (1:39.54); 51st in the 50 free (35.03)
Olivia Groom 25th in the 100 free (1:13.69); 28th in the 100 backstroke (1:31.46)
Savannah Hutson 32nd in the 100 backstroke (1:34.29); 66th in the 50 free (37.81)
Kylie Batts 33rd in the 100 free (1:19.05); 53rd in the 50 free (35.12)
RELAYS
200 medley relay (Elizabeth Langhi, Lauren Langhi, Ella Falco, Ellie Coburn) – 4th (2:02.51)
400 free relay (A) – (Ellie Colburn, Olivia Groom, Megan Grace, Riley Robinson) — 4th (4:29.38)
200 free relay (A) – (Lauren Langhi, Riley Robinson, Lauren Montgomery, Ella Falco) — 4th (1:48.23)
200 free relay (B) – (Elizabeth Langhi, Addisyn Grise, Madyson Hallmark, Megan Grace) — 9th (1:59.75)
400 free relay (B) – (Addisyn Grise, Savannah Hutson, Kylie Batts, Eliza Renshaw) — 14th (5:16.47)
200 medley relay (Kylie Batts, Livie Jorgensen, Eliza Renshaw, Caroline Payne) – 21st (2:40.74)
BOYS
Bryce Robinson 4th in the 100 breaststroke (1:08.60); 6th in the 200 IM (2:14)
Chase Atkins 5th in the 200 free (2:01.01); 5th in the 500 free (5:31.13)
Bryce Hanson 6th in the 50 free (24.40); 9th in the 100 breaststroke (1:14.35)
Jordan McKee 11th in the 100 backstroke (1:15.85); 14th in the 200 free (2:25.62)
Zack Gugle 14th in the 100 backstroke (1:23.44); 17th in the 200 free (2:41.81)
Shaw Howell 41st in the 100 free (1:19.96); 56th in the 50 free (35.48)
Jackson Smith 53rd in the 100 free (1:38.31); 66th in the 50 free (42.52)
RELAYS
400 free relay (Bryce Robinson, Zack Gugle, Bryce Hanson, Chase Atkins) 3rd (3:50.69)
200 free relay (Bryce Robinson, Jordan McKee, Bryce Hanson, Chase Atkins) 4th (1:38.69)